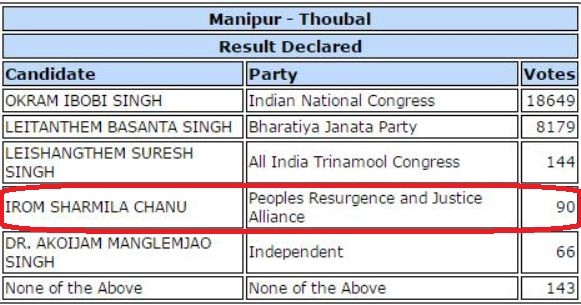 A quote often misattributed to Mahatma Gandhi says: "First they ignore you, then they laugh at you, then they fight you, then you win." Irom Chanu Sharmila must have taken this to heart when she first went on a fast for 16 years against the Armed Forces Special Powers Act (AFSPA).
Also read: Manipur polls 2017: Kejriwal donates Rs 50,000 towards Irom Sharmila's campaign
However, when she broke the fast and decided to contest elections, she perhaps also broke the hopes, dreams and aspirations of many Manipuris, only 90 of whom voted for her in the just-concluded Assembly polls.
The bare details
A total of 27,271 votes were cast in the Thoubal Assembly constituency of Manipur, where five people were contesting the elections. Of these, the spotlight was of course on Irom Sharmila, who had launched her own political party — the Peoples Resurgence and Justice Alliance (PRJA) — just to contest the Manipur Assembly elections. The other candidate on whom people were focusing was incumbent Chief Minister and Congress leader Okram Ibobi Singh.
When the Election Commission finally called the result, Ibobi Singh had received 18,649 of the more than 27,000 votes cast. On her part, Irom Sharmila did not even make it to three figures, let alone receiving the 4,546 votes she would have needed to avoid forfeiting her election deposit fees. In fact, more people — 143 of them, to be exact, pressed the None Of The Above (NOTA) option than chose her!
What next for her and the PRJA
After the deplorable loss, Irom Sharmila has said she will quit politics. Her exact words to a news agency were: "I want to quit fighting any type of election." This is a sort of recognition from her that she had lost the support of the people when she quit her fast and decided to jump into electoral politics.
Her primary task would now be to win that support back. This is Irom Sharmila we are discussing, and no way will the Iron Lady of Manipur quit activism. However, she cannot go back to her fast like nothing happened. She will have to find a better way to fight for the repealing of AFSPA, and also have another agenda in mind in case she manages to reach that accomplishment. As for the PRJA, Irom Sharmila may choose to either disband it or repackage it into a strong tool in her ventures for activism.
And on the personal front, there were reports last month that she would get married after the elections. The groom will be her long-time boyfriend and current fiancé Desmond Coutinho. Interestingly, Coutinho has never been on good terms with Sharmila's supporters when she was on the fast. It remains to be seen how she manages to get back and retain her supporters after she gets married.