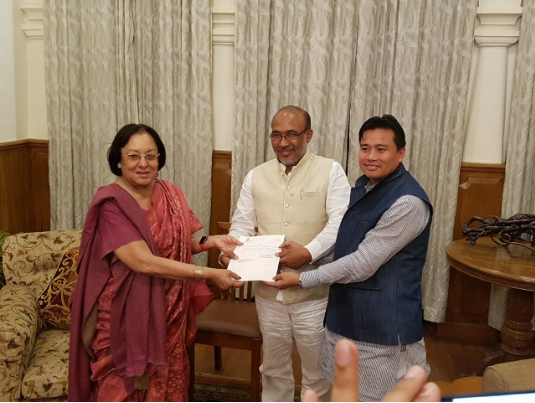 Manipur Chief Minister Nongthombam Biren Singh-led BJP government proved majority during the floor test in the Manipur assembly on Monday. The BJP has 21 MLAs and claims to have support from NPP, NPF, LJP and three others.
The NPP and NPF won four seats each, the LJP won a single seat and three others. All the legislators along with an independent and one AITC have been lodged in a hotel in Guwahati since Thursday. Singh proved majority with 33 MLAs on his side. One Congress MLA jumped ship and shifted to BJP. Congress now has the support of only 27 MLAs and hence was unable to prove majority.
"There is nothing like fear of poaching by the Congress before the floor test. We are here just to relax and also meet some of our senior party leaders," BJP lawmaker Thokchom Radheshyam Singh said according to a report in The Indian Express.
Singh was sworn-in as chief minister on March 16 after he assured Manipur Governor Najma Heptulla that he has the requisite number of MLAs to form the government.
While Congress had won the most number of seats in Assembly election 2017 with 28 constituencies, the BJP had come forward to form the government.
The indefinite economic blockade was also lifted at on midnight on Sunday by the United Naga Council after tripartite talks between the BJP (at the Centre and the state government) and the UNC.
Prime Minister Narendra Modi had said that if the BJP government came into power it would solve the issue of the economic blockade that lasted three months.