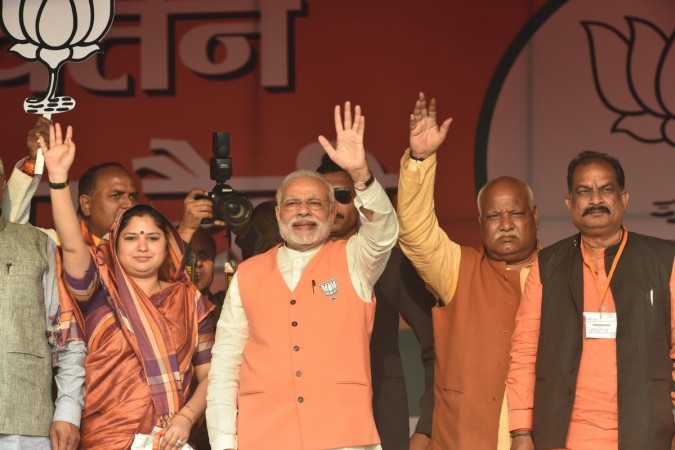 Manipur's Imphal is tense before Prime Minister Narendra Modi's election rally in the capital's west district on Saturday. Police found on Friday a hand grenade and a bomb in Imphal's West district.
Also read: Assembly elections 2017: EC orders legal action, FIRs against 3 candidates from UP and 1 from Manipur over statements on bribery
Rebel groups in Manipur have called for a "complete shutdown" in Manipur before Modi's visit. The six rebel groups' Coordination Committee (Corcom), has said that that his visit is aimed at "hoodwinking the people of Manipur." The shutdown will begin at 6 am and will continue until PM Modi leaves Manipur.
Initially, his rally was supposed to take place at Kangla fort which the Meiteis hold sacred. The venue of the rally was changed after Irom Sharmila's party Peoples Resurgence and Justice Alliance (PRJA) filed a complaint.
Now the rally will take place at Langjing Achouba ground in Imphal West district.
One of the two explosives was found near the gate of BJP candidate Soibam Subhachandra's residence at Ningombam Leikai, 9 km away from the Achouba ground, while another bomb was found in front of another BJP worker O Sunil's residence in Thoubal district, 40 km away from the rally venue.
"Narendra Modi's visit to Imphal on February 25 is another trip aimed at hoodwinking the people of Manipur," a release from the rebel groups said. Services like medical, media, water supply and fire service will not be hit by the shutdown.
A BJP leader in Manipur has been sent a notice by the Election Commission for flouting the model code of conduct. The BJP leader Woba Joram was caught on camera saying he would be distributing money in his constituency to get votes. The candidate was heard saying that he would pay the voters cash to vote for him.
The PRJA filed a formal complaint after the video came to light.
"This person should be immediately disqualified. He is not fit to be a leader. If the EC is sincere and competent about following the model code of conduct, then they should monitor and bring more accountability in the poll process. We urge the EC to be more vigilant and swift," PRJA convener Erendro Leichombam said.
The election in Manipur will take place on March 4 and 8.