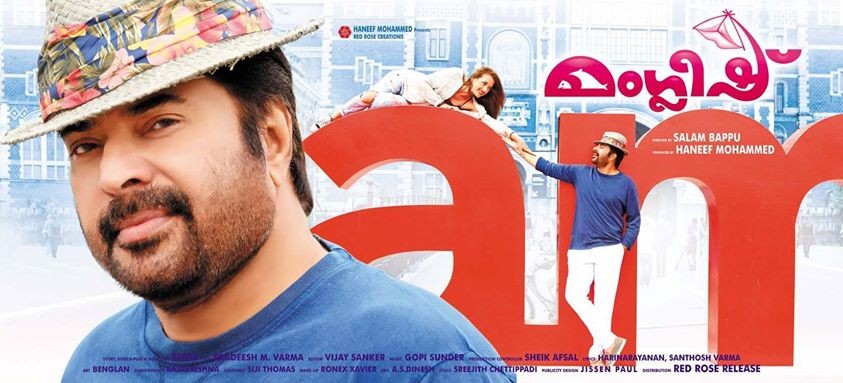 "Manglish" directed by Salam Bappu is one of the most awaited Malayalam films for this Eid. The film stars Mammooty and Caroline Bech in the lead and is all set to hit theatres on 27 July. The film is said to have all elements of a mass entertainer with comedy, action, romance and songs.
"My second film 'Manglish' is a full end commercial film. It has all elements, which audiences are looking in an entertainer. Manglish is a word that usually refers to people who speak little English mixed with a lot of Malayalam. But this film is not about that. It is about the life of two people who don't have a common language to communicate and the difficulties they face. Mammootty plays the role of Malik Bhai who knows only Malayalam and Dutch actress Caroline Bech plays the role of Michelle. There are some other movies that are made with the same idea, but we made sure to avoid repetition," said Salam Bappu, the director of "Manglish" to International Business Times, Indian Edition.
Malik Bhai is a familiar face in Cochin Harbour, who is a wholesale fish dealer and it is said that no business in Cochin happens without Bhai's consent. Bhai's life takes a turn when a foreigner Michelle enters his life. Communication becomes a hurdle between them as they both do not have a common language.
"Manglish" is Bappu's second venture as a director. His first film "Red Wine" had a big star cast, including Mohanlal, Asif Ali, Fahadh Faasil and Meera Nandan. The film was appreciated for its narrative style but failed to make a mark in the box office.
"My first film 'Red Wine' was more of a serious film. As a filmmaker, that kind of films gives you satisfaction, but the audience will have a lot of expectation when it comes to their favourite star's films. "Red Wine" failed to make a mark as an entertainer even though it was a good film. In that way, "Manglish" can be called as a film made for audiences to enjoy and celebrate. Moreover, I don't want to be typecasted as someone who does only a typical kind of films. Instead, I want to do films of different genre, which a mass audience can enjoy. The story line of "Manglish" has the scope of being a mass entertainer and it will be loved by everyone, including the family audience. The script of the film is done debutant Riyaz. We have worked on it for a year to get the best out of it," the director added.
"Manglish" is also touted as the comeback film of Mammootty after a series of flops. When asked about the lead superstar, the director said, "Mammootty was here all the time. He did not go anywhere and stars like him or Mohanlal has gone through a lot of ups and downs. You can't write them off just because few of their films did not do well in the box office. It is not that the films they did were bad, it is just that the audience did not respond well. Such failures will not deter them from doing more films," the director said.
Bappu has also packed up a huge star cast for his upcoming flick "Manglish." The film has Tiny Tom, Jojo, Vinay Forrt, Mukundan, Sudheer Karamana, Ramu, Sathar, Ravindran, Sunil Sukhadha, Sasi Kalinga, Kalabhavan Rahman, Chembil Ashokan, Sudhi, Kalabhavan Haneef, Aneesh G Menon, Vishnu Ravindran, Kuriakose, Gopalakrishnan, Shrinda Ashab, Shreedhani, Parvathy Menon, Nimarose, Silu Abraham and Pauly in important roles.
"Each character in the film, let it be big or small is chosen carefully. One thing everybody told me after watching "Red Wine" was about its characters. Even the character with least importance was played by proficient actors in the industry. Same is the case with "Manglish." All the characters are the prominent actors of our industry and all have given 100 percent dedication to the roles I have given them," said the director.
The technical aspect of the film also has a lot to offer. The camera of the film is cranked by Pradheesh Varma, who is known for his works "1983" and "Ezhu Sundara Rathrikal." The editing is done by Vijay Shanker, who has worked for Kamal Hassan's "Uthama Villain."
The film is well supported by Gopi Sunder with his music. The film had four songs and are already in the top popular list. The promo song "Njanga Ponenatta" sung by Dulquer Salmaan has become a hit number. The lyrics are penned by Hari Naranyanan and Santhosh Varma.
"Manglish" is produced by Haneef Mohammed under the banner of Red Rose creations.