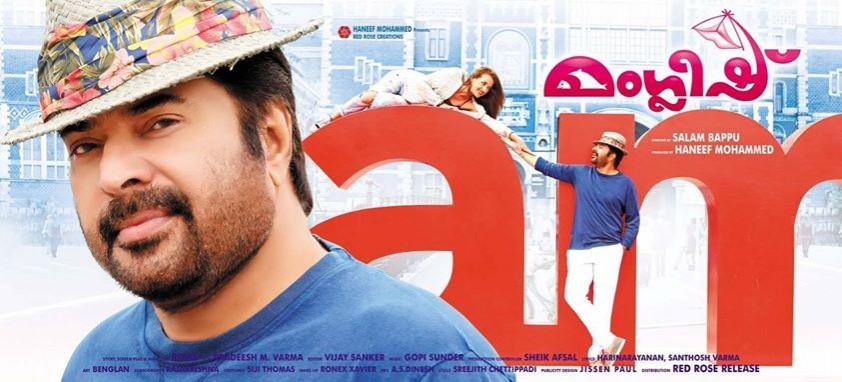 "Manglish" starring Mammootty has opened to a tremendous response at the box office, earning ₹3.15 crore in five days across Kerala and is now heading for a successful second week.
"Manglish" directed by Salam Bappu was released across Kerala on 27 July and is one of the popular films among the Eid releases. The gross collection of this mass film is expected to grow in the coming weeks as it is released outside Kerala from 1 August. The latest reports suggest that the film is running successfully in its second week in Kerala and is also gaining popularity among Keralites residing outside Kerala. Even though the outside Kerala box office report is not yet released, the makers are expecting a huge turnover for the Mammootty starrer.
"Manglish," with its success in theatres is now considered as the comeback film of the superstar in terms of its theatre collections. The film is welcomed by critics as well as the audience.
"Manglish" is about the difficulties faced by two people who do not have a common language to communicate. Mammootty plays the role of Malik Bhai who knows only Malayalam and Dutch actress Caroline Bech plays the role of Michelle.
The latest reports from the industry indicate that "Vikramadithyan" is still leading the race among the Eid releases. This week has seen the release of Dileep's "Avatharam."
Industry insiders are now waiting to see which Eid release will lead the box office in terms of collection. Meanwhile, Jean Paul Lal's "Hi I am Tony" has reportedly failed to make a mark in the box office.
"Manglish" has a huge star cast of Tiny Tom, Jojo, Vinay Forrt, Mukundan, Sudheer Karamana, Ramu, Sathar, Ravindran, Sunil Sukhadha, Sasi Kalinga, Kalabhavan Rahman, Chembil Ashokan, Sudhi, Kalabhavan Haneef, Aneesh G Menon, Vishnu Ravindran, Kuriakose, Gopalakrishnan, Shrinda Ashab, Shreedhani, Parvathy Menon, Nimarose, Silu Abraham and Pauly in pivotal roles.
The story, screenplay and dialogues of the Mammootty starrer are done by Riyas and Pradheesh Varma handles the camera. The lyrics are penned by Hari Narayanan and Santhosh Varma. The film is produced by Haneef Mohammed under the banner of Red Rose creations.