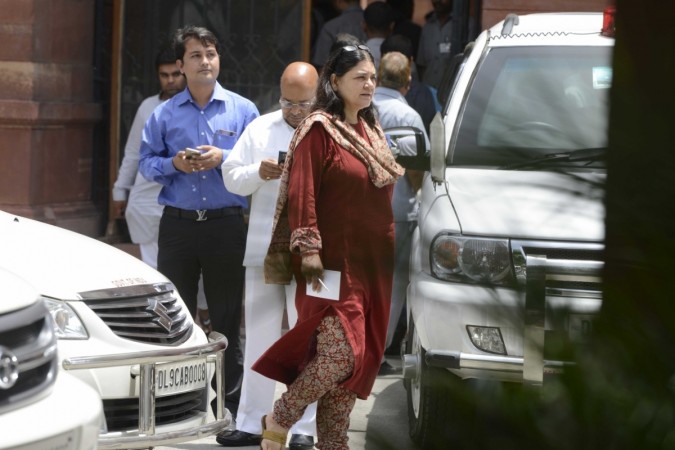 Union Cabinet Minister Maneka Gandhi has slammed environment minister Prakash Javadekar for allowing state governments to cull animals. The Union Minister of State for Environment, Forests and Climate Change in his response said the permission has been given to prevent crop damage.
Gandhi, also an animal rights activist, said Javadekar gave permission to kill blue bulls (nilgai), wild boars, monkeys, peacocks and elephants in several states. Following Javadekar's approval, hunters in Bihar have killed at least 200 nilgai in the last six days, NDTV reported. The minister has said the permission was given for 39 districts of the state and will remain in force till Nov. 31.
She said it is difficult for her to understand Javadekar's "lust for killing" animals, the Indian Express reported. A video by News18 showed hunters killing nilgai in the fields in Bihar.
"The Environment Minister is writing to every state to kill whichever animal people want. In Bengal he gave permission to kill elephants, in Himachal he gave permission to kill monkeys, in Goa it were the peacocks. The Chandrapur massacre involves killing of 53 wild boars and the permission for killing 50 more has been granted. His own wildlife department has said that they don't want to kill. I don't know what is with the brutal killing of so many animals," another News18 report quoted Minister of Women and Child Development Maneka as saying.
The environment ministry had in December 2015 passed a memorandum that allowed the states to declare animals causing damage to crops and property as vermin for a limited time.
"According to law if farmers are suffering and their crop is being damaged and state government sends a letter to centre on the issue, then a decision is taken within the ambit of law. The action is taken in the legal framework in a scientific manner," Javadekar said.
The People for the Ethical Treatment of Animals, or PETA, has also criticised the union government's decision.
"The human-animal conflict is rising. We are encroaching into the animal land. Instead of ordering the animals to be killed, animal land should not be encroached upon and if not possible, should relocate them. Killing animals is not a solution," PETA official Nikunj Sharma said.