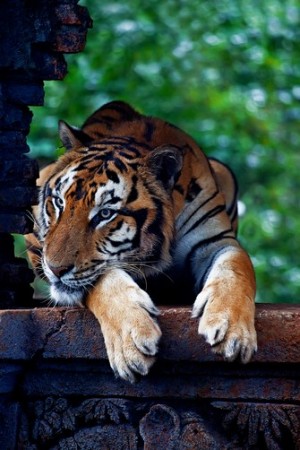 In what seems to be a bizarre incident, a tiger from the Sundarbans bordering India and Bangladesh snatched away a man while he was fishing with a group around the forest in 24 Parganas (South) district of West Bengal.
The tigers from Sundarbans are known for their expertise in catching their prey. Isahaque Laskar, who was taken away by the tiger is believed to have been killed by the animal as the officials are yet to locate him in the dense forest.
Laskar was fishing on the banks of Sidurkathi River at Beniseli jungles with a couple of friends when the tiger suddenly emerged from the forest and took him away, reported PTI.
The group of friends had gone to catch some crabs when the incident took place. Laskar's friends, totally shocked by incident, notified the forest authorities and filed a case with the police to trace him.
Previous records prove that Sunderban is perhaps one of those places in the world where man is not on top of the food chain, due to the Bengal tigers, known to kill at least 50 people in a year.
In fact, a rise in attacks by the Sunderbans tigers was noted in July of 2008, when a similar incident happened. A fisherman named Putul Naskar was dragged into the Benipheli forest in the Sundarbans by a tiger early morning while he was busy catching crabs from the river.
Authorities in the nearby villages have repeatedly asked locals not to venture around the fringes of the forest.