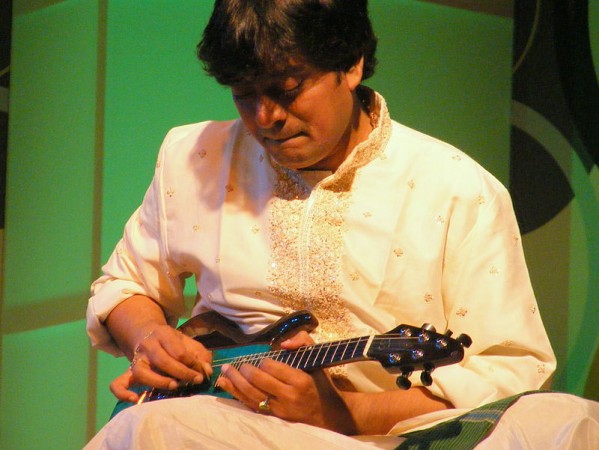 Renowned musician Uppalapu Srinivas (popularly known as Mandolin Srinivas), 45, passed away at a private hospital in Chennai on Friday morning at 10 am.
Srinivas was admitted to the Apollo Hospital a few days ago for a liver transplantation. He was recovering well but his condition deteriorated following which he passed away on Friday morning, reported the The Times of India.
Born in 1969 in Palakol, Andhra Pradesh, Srinivas showed interest in learning mandolin at a young age of six. He learnt from his father and at the age of nine, he performed for the first time during the Thyagaraja Aradhana festival. Since then he has performed for several occasions and has impressed many with his stunning performances.
The child prodigy-turned-maestro has collaborated with the likes of Zakir Hussain, Vikku Vinaykram and Hariprasad Chaurasia among others. He played an electric mandolin and has also worked with global artistes, including John McLaughlin and Michael Nyman, reported the Press Trust of India.
Srinivas has performed in several renowned festivals across the world, including in the United States, Canada, Mexico and Barcelona, reported The Hindu. He has also won several prestigious awards, including the Padma Shri, National Citizen's Award and Sangeeta Ratna among others.
The carnatic musician is survived by his father and brother Mandolin Rajesh, an accomplished mandolin player.
Several celebrities, musicians and political leaders have condoled the actor's death.
The Prime Minister expressed grief on the passing away of renowned musician Shri Uppalapu Shrinivas.

— PMO India (@PMOIndia) September 19, 2014
Andhra Pradesh CM Chandrababu Naidu: "Deeply saddened by sudden passing of U. Srinivas, renowned Carnatic musician & legendary Mandolin player. My condolences to family members."
Zakir Hussain: "Today mother India cries, today a part of Indian music died and we are orphaned, RIP my dear brother Mandolin Srinivas."
A. R. Rahman: "Emotionally shaken to hear of Carnatic shining star Mandolin Shrinivasji's demise... May God bless him with happiness in the next world..."
Harris Jayaraj: "R I P "The Great Mandolin Srinivasan" who has inspired not only me but many youngsters to take music seriously during their childhood."
Khushbu: "Sad to hear the demise of #MandolinSrinivas.. Very young to go.. A huge bundle of talent he was.. RIP.."
Vijay Yesudas: "Very sad news as we wake up today - the departure of a great musician and human being - life can't be so cruel - RIP Mandolin U.Srinivas sir."
Vishal Dadlani: "Awful news! U. Srinivas aka Mandolin Srinivas, gone. An absolute genius, and an ambassador for Indian classical music! So young, too! :("
Chinmayi Sripada: "Inexplicable. RIP Mandolin Srinivas. You were a true child prodigy. Unfortunate."
Siddharth: "When we were kids Mandolin Srinivas was considered the Golden child. Grew up listening to the genius. Sad day.. #MandolinSrinivas #RIP"
Sreedhar Pillai: "RIP #MandolinSrinivas (45), truly a legend. Sad that he passed away at such a young age."
Srinivas: "Life is cruel.. Mandolin U Srinivas, the genius dies at a young age, when he had much more to offer to music .. RIP"
Krish: "This is such a shocking News... Great Musician Mandolin U.Srinivas is no more. May his soul rest in peace."
Rahul Ravindran: "Mandolin Srinivas no more????? How?? He was only 45! Pride of Andhra and T.N.. Shocking.. True genius. Everyone in my family is a huge fan."