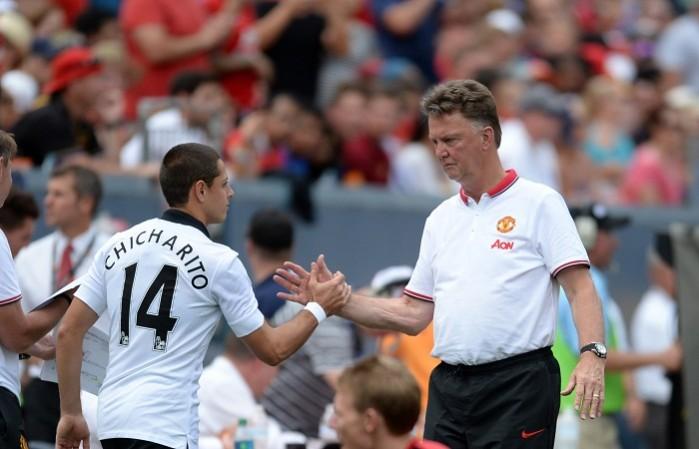 Manchester United boss Louis van Gaal has warned all the Red Devils' fringe players that they will be getting their last chance to impress against Liverpool, as the Dutchman looks to make some drastic chances at Old Trafford ahead of the new season.
Players including Javier Hernandez, Shinji Kagawa and Nani, who got very limited first team football under David Moyes last season, will be given a last chance to prove their worth as Manchester United prepare to take on Liverpool in the finals of the International Champions Cup.
"I shall make judgments after this tour," ESPN quoted Van Gaal as saying. "I let all the players play and I know now more than before the tour.
"Now also it is a little bit soon to judge, but in football you have to judge and you have to give a chance to the player to make a transfer when I see that his prospects to play are not so high. You have to say it in advance because it's too late after August 31. I will tell players after the tour - but to them, not to you."
The Dutchman, who led Netherlands to a third place finish in the 2014 World Cup, also said that he will be fielding a strong side against their Premier league rivals Liverpool, before making changes after the break.
"It's always the same philosophy. A lot of players will play 90 minutes because it's the last time we can do that. We have to build up and I cannot do that in training sessions, so we have to do it in the matches," he added.
Meanwhile the former Barcelona manager revealed that Adnan Januzaj, Robin van Persie and Marouane Fellaini may be ready for Manchester United's opening Premier League fixture against Swansea City at Old Trafford on 16 August.
"They have already trained. I sent them to training in a special group and they could reach the first match [against Swansea], but not [next Wednesday's friendly] against Valencia," added the Dutchman.
"It depends on the individual because each one is different. There is a difference between players and I have to see if they can do it or not."
"I have to look at Van Persie because if you have three weeks holiday and only four days training before Valencia, you are not fit enough. For the first game in the Premier League it's possible, but I don't think so."