Manchester United have made some quality signings in the form of Romelu Lukaku, Victor Lindelof and Nemanja Matic. But, manager Jose Mourinho had always stated that he wants to make four signs before the transfer window shuts down. After securing three, the fourth one has become a difficult task.
The Red Devils were also looking at the prospect of signing Barcelona midfielder Sergi Roberto, who can play in various positions. But, the Barca player, who scored a goal in their opening match of the La Liga season, has ruled out the move, stating he is happy at his present club.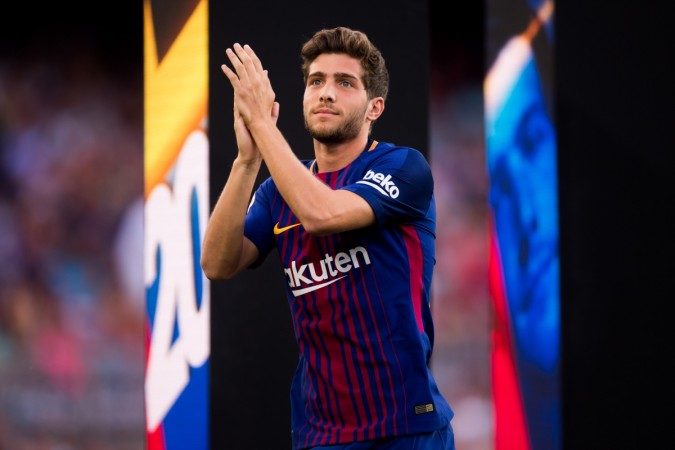 "I played in my favoured midfield position (against Real Betis). I started at the Bernabeu and the coach has given me confidence. I've scored today and I want to be important. In preseason I wasn't starting, but now in the official matches, I am playing more. I want to continue here and continue like this," Sergio said.
Now, Manchester United might have to look at other options elsewhere and again concentrate on landing Inter Milan winger Ivan Perisic, who has been on United's radar since the start of the transfer window. At one point in time, the signing was imminent, but for some reason, it could not be finalised.
However, Sergio expressing his happiness at Barcelona will also prove to be a setback for Chelsea, who have failed to add good depth to their squad. Chelsea manager Antonio Conte wants to strengthen their squad, and the acquisition of Sergi would have been brilliant, but that is not going to happen.
In all this, it is Barcelona, who will take a sigh of relief, after losing Neymar to PSG for a world record fee of £198 million. All top clubs always want to keep their top players in the club as long as possible, and Sergi's comments will be a huge boost to the Barca officials, who might have been alert with their superstar Lionel Messi being wanted by Manchester City.
The Premier League club are willing to break the bank and shatter Neymar's world record fee too.