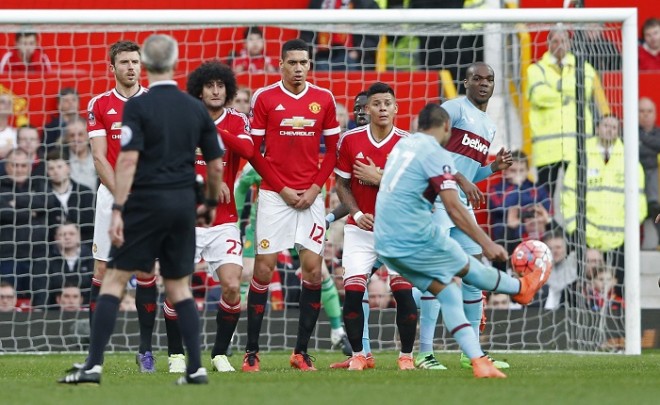 Manchester United and West Ham produced an exciting draw during their FA Cup quarterfinal at Old Trafford, Sunday. Goals from Dimitri Payet and Anthony Martial provided a fair result (1-1) for both sides, who looked sharp, and also chaotic in certain phases.
The first half might have been a bit boring, but the second half made up for it with an entertaining 45 minutes of football, which produced some magical moments including Payet's incredible goal.
West Ham got better chances to take lead in the first half, but failed to convert. Though it was a home game for United, the West Ham supporters made their voices heard at Old Trafford.
Hammers' Emenike should have in fact scored as he came close on a few occasions to score the elusive opening goal. With Andy Carroll being opted as West Ham's striker, the Englishman did trouble the United defenders with his height, especially in aerial duels.
The home side got their first real chance in the 27th minute in the form of Ander Herrera, who blasted the ball high into the stands from around the penalty area. The Spaniard should have converted it into a goal. Apart from that, there was nothing for the home side to be pleased about.
However, the second half was far more interesting as both teams looked determined to score the first goal. West Ham, after some good chances, broke the deadlock with a brilliant free kick in the 68th minute via Payet.
Manchester United began to press hard for the goal and came close a few times, but to no avail. United gradually began to get balls into the box with fantastic crosses and one of those finally produced a goal. Martial finished a good ball from close range to make it level. The home side, after the goal, looked even more impressive and were going for a win with Memphis Depay and Martial troubling the Hammers' defenders.
Somehow, the West Ham defenders, who were so good for the first 70 minutes, suddenly began to look weak. United were keen to take advantage of it, but failed to clinch the game.
On the contrary, West Ham nearly won the game with a strike by Antonio in the dying minutes, which was brilliantly saved by David de Gea.
With this draw, United will have to travel to Upton Park and face West Ham for the FA Cup replay.