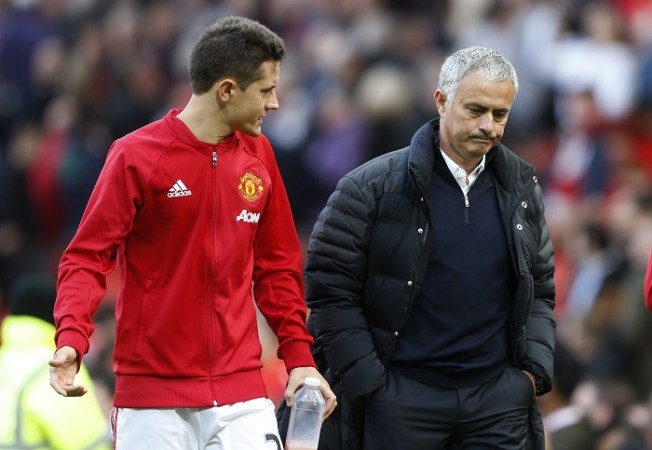 Jose Mourinho watched in disbelief as David De Gea spilled a shot from Glen Johnson, Jon Walters hit the crossbar off the rebound and Joe Allen made no mistake in tapping home as the ball came down. This was a match that Manchester United should have won comfortably, such was the number of chances they created, but an inspired goalkeeper in Lee Grant and profligate finishing meant all Mourinho's team had to show for, at the end of the 90 minutes, was one point.
Those two dropped points would have hurt a lot more after league leaders Manchester City were beaten by Tottenham in the match soon after the one at Old Trafford. Owing to United's inability to kill Stoke off, the difference between them and their City is five points, with seven games played.
After Grant had kept Stoke City in the game with a string of saves in the first half, it looked like Jose Mourinho's double substitution had done the trick, when he brought Anthony Martial and Wayne Rooney on for Juan Mata and Jesse Lingard.
Martial ran from the right and passed the ball to Rooney, who had the ball taken off him by Geoff Cameron, but it only went right back to the Frenchman in space. Martial dropped a shoulder and curled one into the back of the net to make it 1-0 in the 69th minute.
Manchester United seemed in control of the result at that point, only for Allen to have his say ten minutes from the 90.
"It's simple – the best Manchester United performance of the season," Mourinho said. "It could have been 3-0 or 4-0 at halftime and six or seven at the end of the game.
"I can't believe the result is 1-1. It was very undeserved. I repeat – it was a much better performance than against Leicester because the result made more than the performance and (against Stoke) it was exactly the opposite."
As good as the performance might have been, all that matters, as Mourinho knows more than most, is the result. With City dropping points and the likes of Liverpool, Spurs, Arsenal and Chelsea picking up wins, this was a weekend where Manchester United could have really used all three.