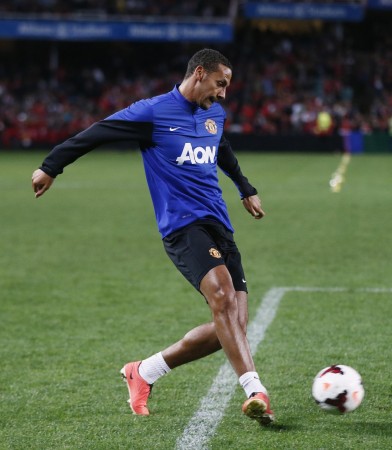 Preview
Manchester United welcome Sevilla to Old Trafford for a game set to honour the contribution of English defender Rio Ferdinand to the club. The game will take place on Friday midnight, 9 August.
Sir Alex Ferguson signed Ferdinand in 2002 for £30million from Leeds United. The ex-England international went on to make over 400 appearances for the club, winning six Premier League titles, one European Cup and two League Cup's in the process. The defender is looking forward to what will be a big night for him.
"This is going to be a big night for me as well as an emotional one," Ferdinand told Manchester United's official website. "I cannot believe where those ten years have gone and I am lucky to have spent them here at Manchester United."
Former United manager Sir Alex Ferguson is glad that the club decided to give the player a testimonial. The Scot considers Ferdinand to be one of the best central defenders in the club's history.
"It is great that the club are granting Rio a testimonial for his services to the club," Ferguson told Manchester United's official website. "He is one of the best central defenders this club has seen. It will be a fantastic night for him and the fans, but it also gets next season's campaign off to a great start."
Half-Time Surprises
Ferdinand, who has been named in the PFA team of the year on six occasions, promised fans that there will be a few surprises in store for half-time.
"There will be a few surprises at half-time, I can tell you that," Ferdinand told Manchester United's official website. "I'm not nervous, but obviously all of the attention is on me during the day. It will be nice to enjoy it with the fans, the people who attend and my family and friends."
Magician 'dynamo' is one of said surprises as he has been hired to perform at half time. United fans will also be able to watch Olympic sprinter Usain Bolt play for their team. According to the Daily Mail, the ardent United supporter is in line to make his first appearance for the Red Devils.
Team News
Unlike United, Sevilla have already played a competitive game this season. Unai Emery's team defeated Montenegrin side Mladost Podgorica 9-1 on aggregate in a Europa League qualifier. The Spanish team won 6-1 in the second leg yesterday (Thursday, 8 August). Considering the testimonial takes place one day after the team's second competitive match of the season, one can expect many fringe players to be getting time on the field for Sevilla. Fatigue from traveling between Montenegro and Manchester could also be a factor in Emerey's team selection.
Similarly, Manchester United will take on Wigan Athletic in the community shield on Sunday (11 August). As a result, David Moyes is expected to rotate his squad for the testimonial, giving many youth team and reserve players a chance.
Where to Watch
Kick-off is at 12 am IST Saturday (Friday night).