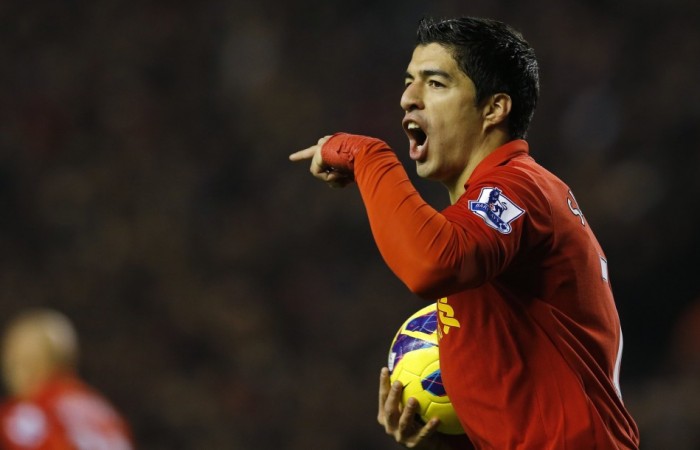 When David Moyes get out of that hole he would have dug for himself after seeing his side handed a mauling by Manchester City in the English Premier League on Sunday, he will see a Luis Suarez "chomping at the bit" - not literally hopefully - to embarrass Manchester United further.
A match against Liverpool, albeit only in the third round of the Capital One Cup, would not be something that Moyes would have wanted after the nightmare at the Etihad.
However, Manchester United, under Sir Alex Ferguson, always prided themselves on being able to bounce back from a big loss, and Moyes will, or should, see this as an opportunity to do the same, only in his style.
Moyes was a little philosophical while explaining the bitter 4-1 defeat to City.
"It is a club on its own," Moyes said explaining the job he had taken up. "It's a fantastic place to work with great players. You try to prepare but you are never quite sure what you are going to get. But I have not been disappointed with what I have seen here that is for sure.
"I have really enjoyed the work. It has been a difficult period but I think we have done OK. With the exception of the last game I have been pretty pleased with how we have played.
"If there is a reaction people should be expecting it. There were always going to be days like this and there might well be more days like this. I hope not, but there will be because that is football. Football does that to you.
"If people thought this was going to be easy and smooth after Sir Alex, I don't think that was ever going to be the case. It was always going to be tough following such a great manager with a great team.
"I think people with real football knowledge will know there are probably some changes to be made. It is not going to be made in one fell swoop. It is going to be done in time. That is why the Manchester United board realised the job that needed to be done needed to be a long-term one, not a short-term one.
"It is great working here with the players. They are a great group of players. But outside we have to make sure we do well enough to make sure other people think the work we are doing here is the right stuff."
Whatever is said and done, though, it all comes down to one thing - results. Football is a results business and if the club do not get the desired results, the man who ends up being in the chopping block is inevitably the manager.
Which is why a reaction against Liverpool at Old Trafford is absolutely necessary.
Liverpool are also, incidentally, coming off a loss, a poor one, to Southampton, where they hardly created any chance from open play. Daniel Sturridge, while being in the form of his life, cannot keep scoring the goals for Liverpool and having Suarez back from the ten-match suspension will be a welcome bonus.
Brendan Rodgers had said Suarez cannot expect to walk into the central striking role on return, and the more likely lineup is, if Sturridge starts, that Suarez will play in the hole behind the striker, or as one of the two wider players.
"It (Suarez's return) means that Liverpool have got a really good player," Moyes said. "So, does it change the complexion (of the game)? I don't know. I'm not looking at Liverpool too much but the qualities of Luis Suarez are very good."
If Suarez picks up from where he left off - footballing wise of course - he will cause the United defence quite a few problems, and the home side could be in for another extremely difficult 90 minutes.
Team News: Robin Van Persie misses out again due to the groin injury, leaving Wayne Rooney to take up the goalscoring mantle. Moyes might give a start to Javier Hernandez, who has barely featured this season. It might also be time to give Shinji Kagawa another run, because the Japanese is capable of unlocking defences from nowhere.
All eyes on the Liverpool side will be on Suarez, and what sort of impact the Uruguayan will make after all the turmoil of the summer. Liverpool, though, will definitely be without Philippe Coutinho and Glen Johnson, while Daniel Agger is a big doubt.
Where to watch
The match is scheduled for a 12:15 a.m. (IST, Thursday) start with it set for a live telecast on Ten Action.
Expected lineups: Manchester United: Lindegaard; Fabio, Smalling, Evans, Buttner; Fellaini, Cleverley; Nani, Rooney, Kagawa; Hernandez.
Liverpool: Jones; Wisdom, Toure, Skrtel, Enrique; Gerrard, Lucas; Aspas, Suarez, Moses; Sturridge.
Prediction: 2-1 to Manchester United