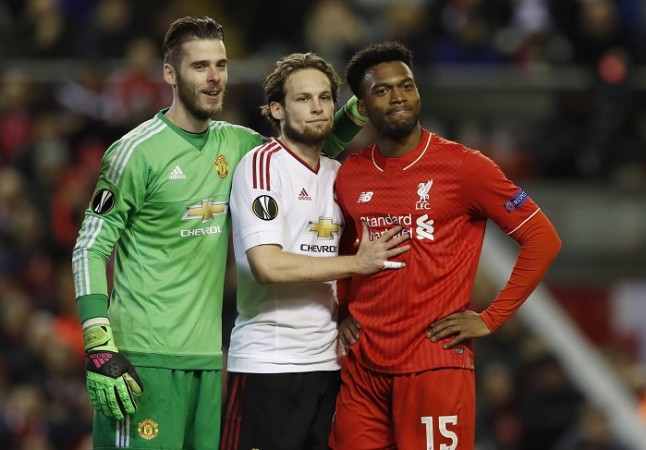 Liverpool put one foot in the quarterfinals of the Europa League with a brilliant performance against Manchester United at Anfield. Now, it is time to take that second foot and lift it over the line when the two teams meet in the second leg of the last 16 at Old Trafford.
The Reds, inspired by a special Anfield atmosphere, completely outplayed Manchester United in the first leg last Thursday, and the only thing they will rue from that night will be the fact that the lead going into the second leg is only 2-0.
However, not conceding a single away goal, while scoring a couple themselves is a pretty good first leg performance, no matter how you look at it, and provided Liverpool do not press the self-destruct button, they should be looking forward to Friday's Europa League quarterfinal draw come the final whistle at Old Trafford.
Get all the lineups and team news HERE
"I'm absolutely optimistic, and before a game I always have the best feeling, but the problem is I lost a few games after having a very good feeling," Liverpool manager Jurgen Klopp said with a smile.
"That's not too important. It's football and, since I've been here, it is the third time we have played against Manchester United. We were always in the game in all three games so that's an important sign for us -- the world doesn't change overnight.
"It's absolutely clear there's a chance for Manchester United, that's football, anything can happen. But we know that we know how to play them, that's another truth.
"It doesn't mean that it's easy for us, we have to work really hard for this, we have to be really concentrated, we need to be brave, we need to be aggressive in a legal way. I don't think too much about what will happen tomorrow night, we have a few hours to prepare ourselves."
That "there is still a chance" hope is what Manchester United will cling on to come Thursday. The key for the home side will be scoring an early goal. Strike early, get the crowd on your side, build that kind of cauldron feeling Liverpool managed so well at Anfield, and we might just have a tie on our hands.
"I think the challenge to beat Liverpool from two goals down is a big one," Manchester United manager Louis Van Gaal was quoted as saying by the club's official website. "We have to believe in this and it starts with the players and also the fans.
"We owe the fans a big result because they are paying to see that and we have to deliver. The results we have achieved this season are not what the fans are thinking we have to fulfil, but still they support this team and this manager. We need their support -- the impact they make is big, as it was at Anfield.
"In sport, you can lose and you can win and you have to accept that, but we can only think that we will beat Liverpool. We can do this by 2-0, not 3-0, as we can do it in extra time. We have to do it in the 90 minutes 2-0 and then we have the chance to beat them. We have scored goals within three or four minutes this season, so it is possible."
Where to Watch Live
Manchester United vs Liverpool will begin at 8.05 pm GMT (3.05 pm ET, 1.35 am IST). Ten Action and Ten HD will broadcast the Europa League match live in India on TV. Viewers in India can also watch the Europa League last 16 second leg by online live streaming on Tensports Live.
BT Sport Europe and BT Sports Ultra HD is the channel to watch the Europa League first leg live in the UK, with the online live streaming option on Watch BT Sport.
Bein Sports and Bein Sports Connect will show the Europa League action live in in Australia, France, Spain, Indonesia, Thailand, the Middle East and North Africa.
Fox Sports 2 will show the Europa League game live in the US, while Liverpool vs Manchester United can also be live streamed online on FoxSoccer2Go. TSN is the place to be to watch the game live in Canada, while TSN TV will provide the live stream option.
Viewers in China and Hong Kong can watch the UEFA Champions League action live on PPTV Sports and LeTV. Eurosport Asia will show the Manchester United vs Liverpool game live in Malaysia and Singapore.