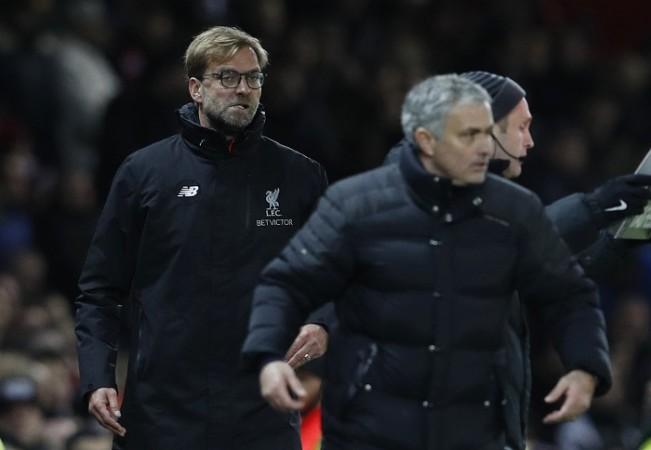 A little before the end of an on-the-knife's-edge English Premier League match between Manchester United and Liverpool, the two managers – Jose Mourinho and Jurgen Klopp – trying to get their team to find the winner, got into a clash on the touchline, after Ander Herrera had made the most of a push from Roberto Firmino.
Ibrahimovic rescues point for Manchester United
The Liverpool forward pushed the Manchester United midfielder down after the latter tried to stop Firmino's forward run by grabbing hold of his shirt.
What was not so great to see was Herrera falling down holding his face when he had actually been pushed down on his chest by Firmino, with that particular altercation leading to one between Mourinho and Klopp.
Referee Michael Oliver showed a yellow card to both the players, and the Manchester United manager elaborated on what went down.
Speaking after the 1-1 draw, Mourinho said what caused the disagreement was the fact that Klopp thought he was trying to get Firmino sent off for reacting to Herrera's shirt pull.
"He thought I was asking for his player to be sent off," Mourinho said when asked about the coming together between the two managers. "I wasn't. There was no problem at all.
"I think the game was correct. I think the players gave everything but in an emotional and professional way so the referee did very well in that part of the game – emotional and in control of good professionals.
"There was aggression but it was good so I think it was great publicity for the Premier League all around the world."
Klopp, though, disagreed with Mourinho's statement.
"He wanted the minimum of a yellow card, I don't know," Klopp said. I think the ref whistled before anything else happened. Roberto is a footballer from head to toe and he wanted to stay in the game.
"He could have passed the ball but that was a yellow card for Herrera and nothing else.
"In the end it was a yellow card for the guy who wanted to play football. It could have been even worse if someone wants to see it again and all that stuff.
"We could not have the same opinion in this moment."