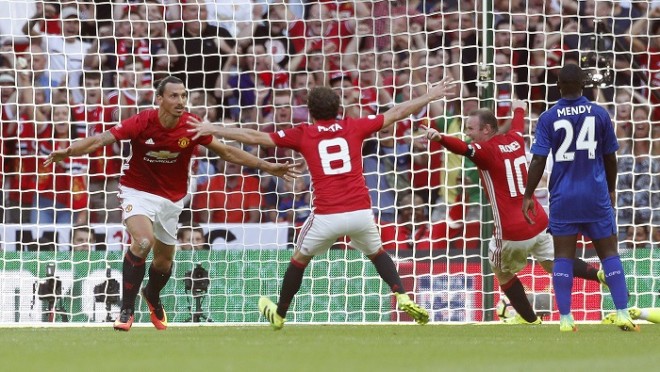 The player for big occasion, Zlatan Ibrahimovic, was instrumental in helping Manchester United defeat Leicester City at Wembley on Sunday. Wit the score tied at 1-1, the striker leaped high, and scored a wonderful late header to make it 2-1, and thus help Red Devils lift the FA Community Shield.
It was not only Ibrahimovic goal, but a solid team effort, which will help United gain immense confidence ahead of the EPL season. Jessie Lingaard was the other goal scorer for United.
Both the managers -- Jose Mourinho (Manchester United) Claudio Ranieri (Leicester City) -- by starting a strong eleven, showed that they were keen to win the shield.
Anthony Martial started the game brilliantly, taking on Leicester defenders. But as the match progressed, United were controlling the game, with the likes of Wayne Rooney and Ibrahimovic looking good. But, Leicester came close to scoring as Shinji Okazaki's header hit the bar, which seemed to have given Ranieri's team the confidence to take on United.
In the middle stages of the first half, Leicester looked threatening, with Jamie Vardy getting involved much more, but United's Jesse Lingard broke the deadlock in the 32nd minute. It was a smashing goal from the 23-year-old.
Both teams got their fair share of chances at goal, but the first half ended 1-0 in favour of United, who deserved the lead. They were the better team on the pitch, enjoying 54 percent possession in the first half.
Leicester started the second half brilliantly, with Vardy showing his finishing skills in the 52nd minute to draw the game level. The goal lifted players of both teams, as there were feisty challenges in the next 10 minutes. Ranieri's team looked threating after that goal, playing their counter-attacking brand of football.
Ibrahimovic received a golden chance to help United regain lead in the 79th minute, but his partially mishit shot was cleared on the line, easily. Few minutes later, Leicester's Musa also missed a header in the 82nd minute, though, it was a difficult one.
However, Ibrahimovic scored the all-important goal in the 83rd minute. The EPL champions threw everything at United in the final few minutes, but the Red Devils held firm as Mourinho's men emerged victorious.