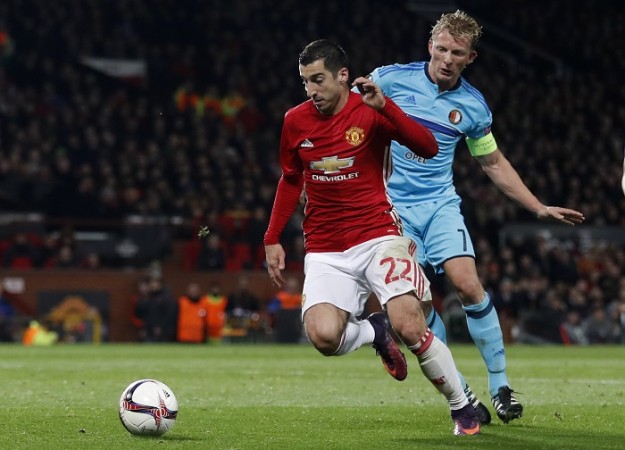 Performance with result is what Jose Mourinho wanted and performance with result is what the Manchester United players, with Wayne Rooney at the helm, gave their manager. Too many times this season, Manchester United have seen results not justify their performance, but not in the Europa League game against Feyenoord on Thursday.
The Old Trafford fans were treated to a much more polished performance from Manchester United, with Rooney scoring the first goal, setting up the second, netted by Juan Mata, before a Brad Jones own goal, via some help from Zlatan Ibrahimovic, and a Jesse Lingard icing gave the home team a 4-0 win over the Eredivisie club.
"I'm happy, this was a performance and a result," Mourinho told MUTV. "I was saying before the match, performance without result is not good but gives you a future. A bad performance with a good result is a happy moment, but it's just a happy moment, not a happy future."
The win puts Manchester United in a strong position to qualify for the next round, needing just a point away to Zorya Luhansk from their final group match.
"This time they played very well again with goals and it's important for us because we always said since day one we want to do well in the Europa League," Mourinho added. "We were in a position of needing four points and now we need just one."
Rooney's goal – his 39th in Europe -- was a special one, with the Manchester United captain breaking away as the all-time top scorer in European football for his club. The England international is also only a goal away from equalling Booby Charlton for the club's all-time record.
"I didn't know that [about the record]," Mourinho said when asked about Rooney's European mark. "And more important than that is the three points that we need and the performance of the team but I think when you make history it's always beautiful, just beautiful details in your career and in this case for Wayne it's fantastic."
Also in the spotlight before and after this game was Henrikh Mkhitaryan, who started for Manchester United and put in a man of the match performance, impressing with his vision and running down the left.
Mourinho was happy for the player, who failed to even make it to the matchday squad against Arsenal last weekend. "He played very well," Mourinho said of Mkhitaryan. "Always improving, improving, improving, improving until the moment he was really tired and I felt it was the right moment to take him off and to let him come off with a very good performance.
"It was important for his confidence and he will try to keep adapting and trying to replicate this kind of quality performance in the Premier League which is a competition with different difficulties."