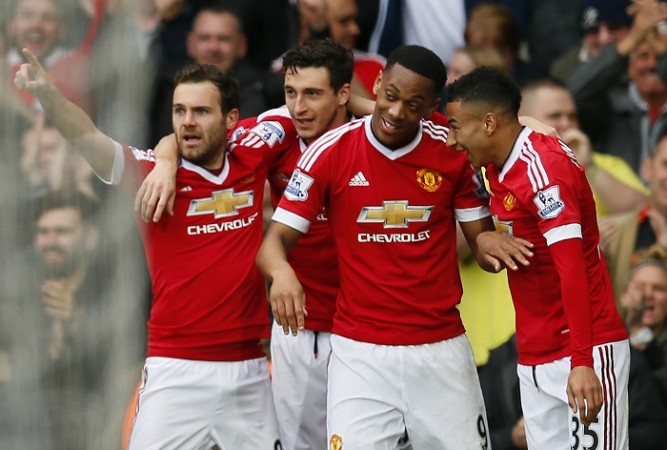 Sunday was a special day for Manchester United for several reasons. The South stand at Old Trafford was renamed after the legendary United player Sir Bobby Charlton, Anthony Martial scored United's 1000th Premier League goal at home and the Red Devils edged past Everton to earn three crucial points in their fight for a top-four place.
Manchester United still have seven matches to go. Among those games, they face the likes of Tottenham Hotspur, Leicester City, West Ham and Crystal Palace.
It shows how important these three points were in order to stay in the race of making it to the top four and make it to the UEFA Champions League next season.
United are currently fifth, just one point behind their rivals Manchester City and five points behind Arsenal.
Louis van Gaal admitted that it was a lucky win as Everton could also have scored.
"I think it was more or less a stolen victory because we didn't play so well. It looked like we were not fresh enough in spite of the fact that we had a lot of days to prepare (for) the match," Van Gaal was quoted as saying by ManUtd.com.
"I'm very happy with the victory, but they also could have scored two goals, I think. We were the lucky team. It's very important; if you lose, the win against City (also a 1-0 one in the previous fixture) is worthless."
Van Gaal felt that it was indeed a great result and this victory will keep them in the hunt for a place in the top four. Manchester United next face Tottenham in the Premier League.
"Now, we are still in the race and we have still four home matches and three away matches. It's a very important game against Tottenham, we played well there last year, it was one of our best matches so I hope we shall continue that," Van Gaal added.
Martial's goal came in the 54th minute. Morgan Schneiderlin's delightful lofted pass found Juan Mata and he cheekily played the ball to Tim Sofu-Mensah, who was on the run overlapping the Spaniard. He saw Martial running in from the side and crossed the ball. The French youngster did not make any mistake, putting the ball through Joel Robles' legs.
Everton manager Roberto Martinez was disappointed and said that they at least deserved a draw. The Merseyside outfit is staring at yet another poor finish to the season.
"In the first half we didn't make the right choices and all in all we need to do much better in terms of getting a better result. The difference between the two teams was minimal but we ended up losing the game," Martinez told Evertonfc.com.
"My disappointment is we couldn't get a draw from a game where our performance was worthy of that. We lost because we showed poor execution in some moments and conceded a soft goal."
Watch the highlights here: