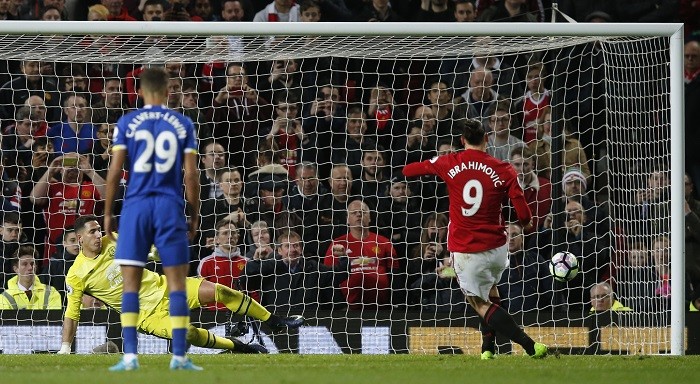 Another Premier League game, another draw for Manchester United. The unbeaten run might have been kept intact, but Jose Mourinho's team dropped further back in the race for the top four after only managing to pick up a point against Everton on Tuesday.
With five points, and a game in hand, separating United to fourth-placed Manchester City before the start of this game, the gap is now four points having played the same number of matches. And considering there are only a few games remaining this season in the Premier League, Manchester United's best chance of making it to the Champions League next season does look like winning the Europa League.
United would not have even managed a single point, if not for Luke Shaw's late attempt at goal, the ball striking Ashley Williams on the arm and Zlatan Ibrahimovic stepping up to slot in the penalty in the fourth minute of stoppage time.
Everton, infinitely better in this game from their rather disappointing performance against Liverpool, had taken the lead in the first half through Phil Jagielka, but a win was snatched away from them at the last.
"We lost two points, because we did a really good job," Everton manager Koeman said. "I think we controlled the game, maybe in the first 10-15 minutes United were the better team with one open chance for Ibrahimovic. They started fast, but I think we controlled well, defended well and we made some mistakes in the second half.
"We had to score the second goal because we had so much space but we didn't always take the right decisions. Even not scoring the second, I was comfortable because, of course, we know we need to defend and we did a great job defensively.
"It is always hard to take. Of course, it is the right decision for the penalty at the end but it is painful when you are just one minute away from winning the game. It is really painful because the boys did a great job, they showed everything but it is one point. Okay, if you can't win then don't lose."
Not losing is certainly something United, who were without Wayne Rooney for this match, with Mourinho revealing the forward had an ankle problem, have done quite a bit this season, but what they haven't managed to do is pick up enough wins, with this being their 12th draw of the season – they have managed just two more wins than the 12 draws all season.
"I have déjà vu in many things but I have to admit we played better football in some other matches," Manchester United manager Jose Mourinho said.
"Did we have chances? Yes. Not a dozen, a few.
"Did we hit the post as always? Yes.
"Did the opponent goalkeeper play very well as always? Yes.
"Did one decision go against us? Yes but I want to repeat again, I don't want to blame him.
"Was the opponent ultra-defensive as always? Yes but we didn't play very well. "
Watch the highlights HERE and HERE and below