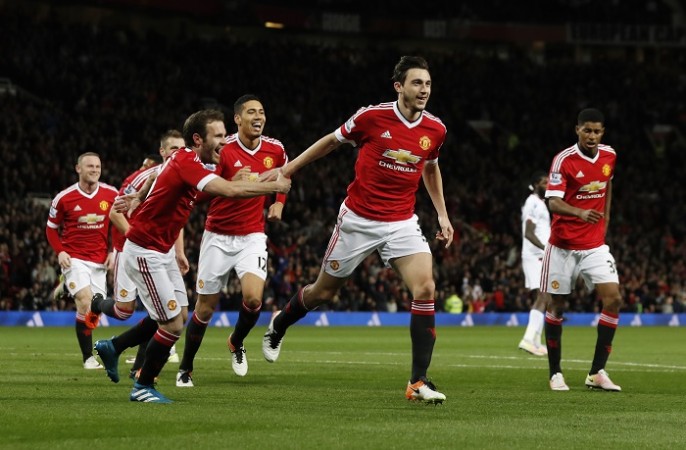 There were signs of improvements as Manchester United defeated Crystal Palace 2-0 at Old Trafford on Wednesday. The Red Devils are looking to finish the season on a high as they inch closer to that top four spot in the Premier League .
An early goal in the fourth minute of the game, gave Wayne Rooney & co. the impetus to go for more. The Eagles never looked like they were capable of finding an equaliser.
Matteo Darmian was in form right from the start of the game. He floated a cross inside the box in the fourth minute, and just as Marcus Rashford and Anthony Martial were looking to convert the cross, Damien Delaney got the telling touch for an own goal. The Italian defender made it 2-0 in the 55th minute with a stunning volley from just outside the box.
Emmanuel Adebayor came close to scoring in the first half, but Palace could not mount a sustained attack on Mancheter United's goal.
"Yes I was very happy with the performance and I think it was a four or five to zero game. We should have finished it much earlier and scored much more goals. We created a lot of chances and we did not give any chances away – one, maybe, in the first half for Adebayor," van Gaal was quoted as saying by ManUtd.com.
United are just one point behind Arsenal and two points behind Manchester City in the Premier League points table. This win will put a lot of pressure on these two teams.
"Of course we are in the race and we are two points behind City and Arsenal (who are one point ahead of United) have to play tomorrow (Thursday) against West Bromwich Albion. It is not an easy opponent because they will defend, probably, and it is always difficult. You have seen Arsenal against Crystal Palace, it is always difficult," van Gaal added.
Crystal Palace coach Alan Pardew was quite obviously disappointed with the result. He was also not happy with the fact that his side conceded within the first five minutes.
"To concede the goal like we did in the opening minutes is really asking for trouble here, but we did well after that period," Pardew was quoted as saying by the official website of Crystal Palace.
"We evened it up, made sure we were strong and there were some decent performances - the goalkeeper was terrific - but it was always going to be a difficult game for us."
"They had everybody fit, everybody available. They've got a massive squad."
Watch the highlights of the game here: