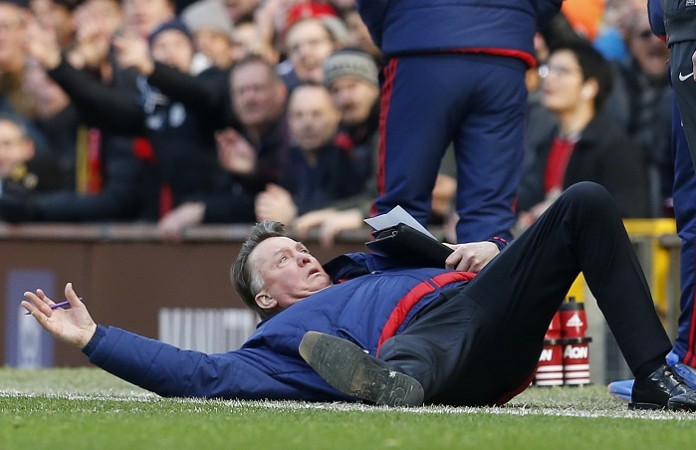 Manchester United vs Arsenal - a high-voltage game that never fails to entertain the football fans.
A depleted Manchester United side beat Arsenal, who has thumped the former in their previous meeting at the Emirates Stadium earlier this season, 3-2 at Old Trafford on Sunday, with the five goals giving the supporters plenty to cheer.
But, that was not all. Louis van Gaal decided to add to the entertainment factor on Sunday.
Van Gaal, who is usually glues to his seat, ran down to the fourth official after being visibly unhappy with a decision from the referee.
Van Gaal hurried to the sideline after Ander Herrera was cautioned by the referee for committing a foul on Alexis Sanchez. The Dutchman demonstrated how Sanchez had thrown himself down and earned a foul, to the fourth official Mike Dean, going down to the ground in the process. That led to huge cheers from the United faithful, but Van Gaal apologised to the match officials after the match.
"That was too emotional and it's not good for the referee, the linesman or the fourth official," Van Gaal told Sky Sports.
"Normally I'm sitting on my bench and I have a lot of criticism because I'm sitting there. I have apologised to the referee and the linesman. I have to control my emotions."
Here is a look at how the world reacted on Twitter to Van Gaal's antics: