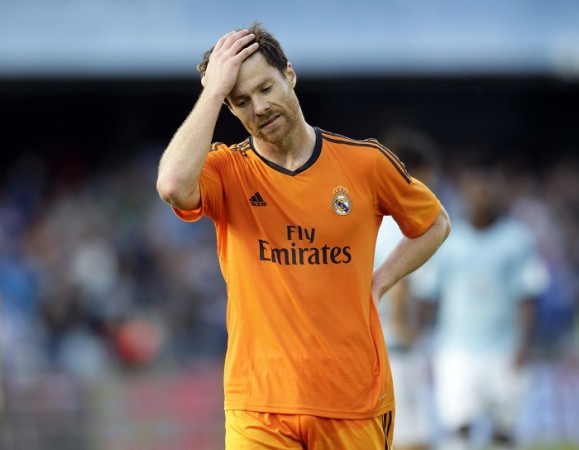 While all of the attention has been on Manchester United making a move for Angel Di Maria, Louis Van Gaal could just pull off a coup by sneaking in the transfer of a different Real Madrid player.
Di Maria to Manchester United/PSG has been one of the transfer sagas of the summer, with the Argentine now expected to leave Real Madrid during the summer transfer window after manager Carlo Ancelotti confirmed the midfielder had submitted a transfer request.
However, while that signing is still very much in limbo, United could make a move for another established midfielder in Xabi Alonso, according to the Daily Express.
Not too long ago Alonso was linked with a move back to the English Premier League, before all of those reports were put to bed when the Spain international signed a new two-year contract earlier this year, which keeps him at the club till 2016.
However, with Real Madrid plush with midfielders at the moment and Asier Illarramendi looking to take over from the maestro, Alonso to Manchester United is not impossible.
It is extremely unlikely, though, as there have been no sounds from the club or the player of a possible move and Alonso does seem quite happy at Real with Carlo Ancelotti a big fan of the deep-lying midfielder.
Alonso, of course, had a successful stint in the Premier League with Liverpool, before switching to the Bernabeu, and his Reds fans will not take too kindly to a transfer to their arch-rivals Manchester United either.
The 32-year-old, who missed Real Madrid's Champions League final triumph over Atletico Madrid through suspension, will give United just that little bit more dependability and class in midfield, which the team have been lacking for some years.
Midfield, apart from the obvious defensive weaknesses, is an area that Van Gaal needs to strengthen and Alonso will undoubtedly bring an extra dimension and strength into that position, with Manchester United legend Paul Scholes also admitting he would love to see the Spaniard at Old Trafford.
However, with Real Madrid looking set to lose both Di Maria and Sami Khedira, who Ancelotti confirmed had rejected a contract offer, this summer, it is highly improbable the Spanish giants would even consider selling Alonso, and that is if at all Manchester United have even enquired about the veteran.