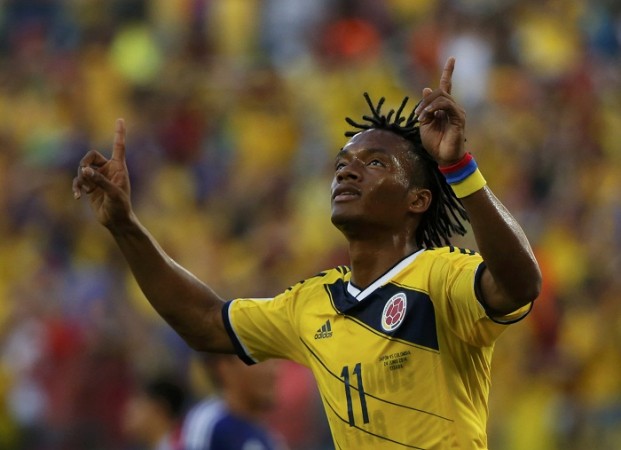 Manchester United have been known for their wingers under Sir Alex Ferguson, with pacey men pinging in those pinpoint crosses from both sides for their potent strikers to guide into the back of the net.
Of late, the wingers at Manchester United have struggled to perform to their potential with the likes of Antonio Valencia, Ashley Young and Nani not quite setting the world alight.
But Manchester United could be ready to bring in a quality winger, with the club ready to fork out quite a considerable sum.
If there was one winger who caught the eye at the World Cup, it was Juan Cuadrado, who delighted everyone with his skills on the ball and, more importantly, final product, with the Fiorentina man grabbing four assists and a goal for Colombia on their way to the quarterfinals.
Those performances immediately put Barcelona on alert with the Spanish giants reportedly doing their utmost to sign the 26-year-old.
However, Bayern Munich recently joined the running for the midfielder, making the move to Barcelona more complicated, with Manchester United now reportedly throwing their hat into the ring for the Colombian's signature.
United have looked to trump Barcelona and Bayern by putting in a £30 million bid for Cuadrado, according to the Daily Express. Apart from Barca and Bayern, several other clubs, including ones from the English Premier League have shown a keen interest in the player, and it seems like Cuadrado will have the pick of the lot when it comes to choosing his destination for next season.
Fiorentina confirmed they have received bids from several clubs for Cuadrado. "It's a tricky situation, as half of Europe are knocking on his door," Fiorentina owner Andrea Della Valle told Gazzetta Dello Sport.
"When he comes back to us in a couple of weeks we will see if he shows his willingness to continue in Florence and if he still has the necessary motivation to stay with us."
Della Valle added on Radio Blu that the club will do everything in their power to keep Cuadrado, but it all depends on the player. "It's complicated, but not impossible," he added. "I'll do everything I can to keep him, even if requires making sacrifices elsewhere, but if Cuadrado is no longer motivated to stay here then we can only accept that and move on."
The likes of Young and Nani have been linked with moves away from Old Trafford in the summer, and bringing in Cuadrado will certainly put their positions even more at risk.
Cuadrado certainly has the skills to make himself feel at home, with his pace and power quite suited to the Premier League.
Executive vice-chairman Ed Woodward also revealed United have the funds to bring in big-name players with United's lack of Champions League football not acting as a deterrent.
However, with the likes of Barcelona and Bayern, to name a few, interested, it might be tough to entice Cuadrado to Old Trafford without Champions League football; but then, Van Gaal has shown in the past he is a master at his job, and one cannot rule him pulling one over his former clubs by putting his powers of persuasion to good use.