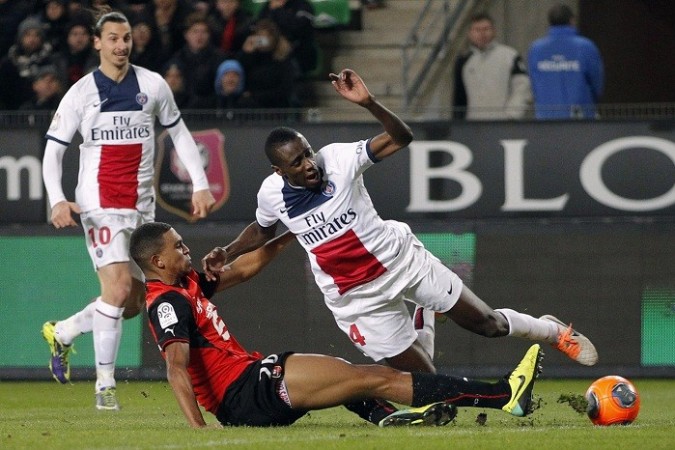 Manchester United are considering a bid in the January transfer window for Paris Saint-Germain midfielder Blaise Matuidi.
David Moyes will whip out that reluctant-in-the-summer-transfer-window cheque book to bring in Matuidi, whose contract with PSG expires at the end of the season, according to English newspaper The Express.
Matuidi is the kind of midfielder that United do need - an all-action, defensively solid player, who can gel with Michael Carrick, when he is fit, in the middle of the park.
The French international has been in decent form for PSG this season, and was impressive last campaign, and there is little doubt he would fit right into the hustle and bustle of the English Premier League.
According to the report, Matuidi could be available for as little as £7million considering the 26-year-old, who has been linked with Arsenal during his time with St. Etienne, only has a little over six months remaining on his current deal.
Of course, Matuidi could go on and sign a new contract in the next month or so, but if PSG fail to reach an agreement, then they would be open to selling the midfielder, rather than risk losing him for free in the summer.
Meanwhile, Moyes has admitted he has money to spend and is confident of bringing in a couple of new faces when the transfer window opens in January.
"We have got the money and the club will spend," Moyes said last week. "There is no question about that.
"We were close to a couple of really major signings [in the summer] but, in the end, we didn't quite get there. Players have chosen other clubs or made their decisions [to stay] elsewhere."
Moyes also suggested he will be open to selling a few of the fringe players, with the likes of Ashley Young, Shinji Kagawa and Wilfried Zaha all linked with moves away.
"A few could go if we got the right offer," the Scot said. "I've tried to give an opportunity to everybody. Would we sell? If the right offers were there we'd probably look at it.
"We'll be balancing trying to move people on but also trying to bring people in."
The 3-0 win over Aston Villa will have eased the pressure a little but on Moyes, but there is no doubt United could do with a couple of new signing in the January transfer window as they look to keep up with the sides at the top of the English Premier League table.