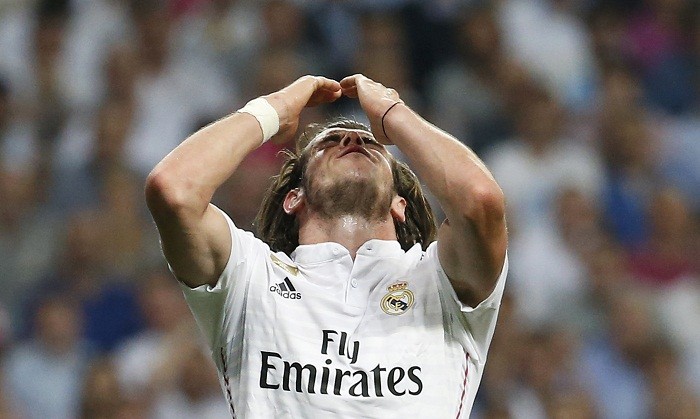 Gareth Bale had another disappointing outing for Real Madrid on Wednesday, and was roundly criticised for his performance in Real's 1-1 draw with Juventus, which saw them knocked out of the Champions League in the semifinals.
Bale missed a couple of chances in the match, but was otherwise anonymous, not being proactive enough to make enough of an impact.
With a world record fee hung around his neck like an albatross, it does look like Bale is finding it difficult to live up to the hype, after a tremendous first season at the club.
As reports of Bale's unhappiness at Real Madrid continue to rumble, Manchester United are seen as the next destination for the Welshman, with Daily Express journalist John Richardson adding fuel to the fire by insisting Bale to Manchester United is a done deal in the summer.
"I think it's almost a done deal to be honest," Richardson told MUTV. "I know somebody very close to Gareth Bale and the public are not hearing the real thing.
"He's very unhappy there and he's unhappy with his treatment."
Bale's agent recently came out and said the Real teammates need to trust Bale more and give him more of the ball, words to which Carlo Ancelotti did not take too kindly.
After another far-from-impressive performance on Wednesday, Bale was again the focus for the wrong reasons, even if the former Tottenham and Southampton man insisted he was reasonably satisfied with his season.
"There have been some ups and downs, but personally I think I've played well," Bale was quoted as saying by the Daily Mail. "I've maybe not scored as many important chances as I'd like but my general play has been good. My finishing is not as good and that's something to work on for next year.
"What doesn't kill me makes me stronger and I'll learn from this season and take it on.
"We wanted to be in the Champions League final, we gave ourselves a chance of winning but it's not to be and we go again next year. I think we always try to score as many as we can. It wasn't meant to be, but we played a good game."
Manchester United will probably have to pay a world record fee to tempt Real Madrid to sell Bale, despite all the pessimism, and while there is little doubt that the Red Devils can afford such a fee, what remains to be seen is if Bale really sees his career at Old Trafford rather than the Bernabeu next season.
Below is the Vine of the journalist making the claim