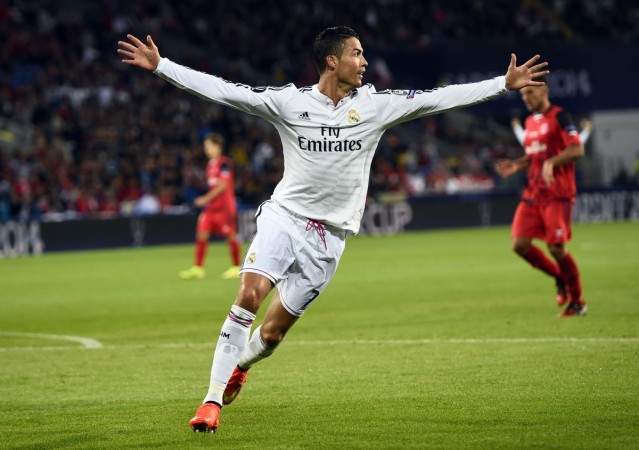 Real Madrid star Cristiano Ronaldo is reportedly set to make a sensational return to his former club Manchester United next summer.
Despite finding a lot of success in Spain since completing his £80 million move from Manchester United to Real Madrid in the summer of 2009, the 29-year-old forward has always hinted at returning to his former club.
And now it seems like he has finally got his wish. The Portuguese star's agent Jorge Mendes also incidentally happens to be the representative of Radamel Falcao and Angel Di Maria, who both joined Manchester United this summer.
And, according to the Express, Ronaldo could also be joining his ex-Real Madrid teammate to Manchester United for a £55 million transfer fee next summer.
However, Real Madrid, who signed United striker Javier Hernandez on a season long loan this summer, reportedly want the Red Devils to include Dutch striker Robin van Persie in the deal.
Ronaldo, who has been in lethal form for Real Madrid, scoring 255 goals in 250 games in all competitions, is only 69 short of breaking Raul's record of 323 (from 741 games) at the Bernabeu.
Considering the Portuguese is just on the verge of reaching such a major mark, it is very unlikely he would leave the club next summer (as it will also take him more than one season to score 68 goals).
However, Sky Sports pundit Guillem Balague, who is also football correspondent for AS in Spain, claims that Ronaldo will be returning to his former club very soon.
"Let's say... that I think Cristiano Ronaldo will go back," Balague told Munity Press recently. "When will that be? I have a good idea, but I'm not going to say it!"
Despite saying that the former Sporting Lisbon forward is happy at Real Madrid, Balague claims that Ronaldo is keen to return to England due to his love for Manchester United.
"I think he's happy at Madrid, I think they've given him what he wanted [but] there's something with the Premier League and him, not unfinished business but a love, which will want him back," he added.
"Real Madrid buy and sell players like a business, with Manchester United it all goes back to that love of football as a kid."