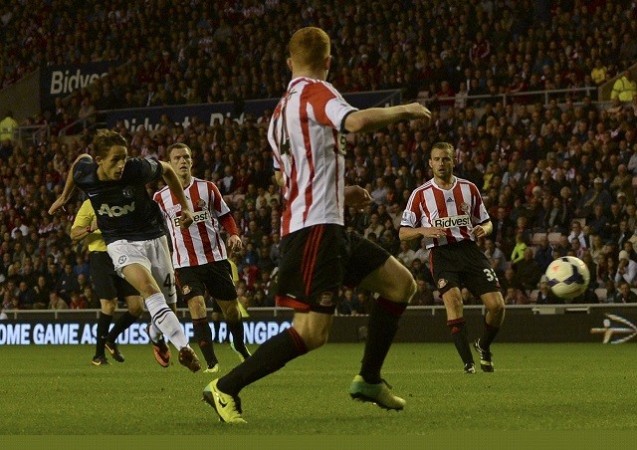 Manchester United are in danger of losing their latest boy wonder - Adnan Januzaj - with Barcelona reportedly showing a keen interest in the youngster.
Januzaj announced himself in the English Premier League with a wonderful brace against Sunderland at the weekend - the second goal, a peach of a volley particularly catching the eye.
Such a performance will of course not go unnoticed and Barcelona have shown their intent to get the teenager to the Camp Nou when his contract expires next summer, according to the Daily Mail.
Januzaj has been in contract talks with United for quite a while now, but is yet to agree a new deal, despite being offered a momentous salary hike.
The player's agent warned United of interest from some big clubs, with the likes of Manchester City also linked with a move.
"I'm not going to say which teams are interested in him, but I can tell you that there is interest from several European clubs," Januzaj's agent Dirk De Vriese said last week.
Barcelona are thought to be one of the clubs showing a keen interest, with the Spanish champions reportedly keeping an eye on Januzaj even before he made his move to United from Anderlecht in 2011.
Januzaj's stock has risen so high, that he recently got a call up for the Belgian national team -- the side filled with an array of gifted playmakers -- for the upcoming World Cup qualifiers.
The 18-year-old, who is eligible to play for several countries having been born in Belgium to Kosovan and Albanian parents, however, turned down the call-up, saying he hadn't decided which country to play for as yet.
"This was the first time I have tried to include him in a squad, because I wanted to send him a clear message," Belgium coach Marc Wilmots said. "Unfortunately, I had a very quick response from England, when Manchester United called me to say the player felt he was not ready to make a choice about his international future.
"I respect his stance. Every player has the right to make his own choice, and I will not attempt to make any sort of ultimatum to him. But I do intend meeting Adnan and his entourage to find out for myself exactly what their thoughts are. You cannot force a player to choose a country. It has to come from his heart.
"Clearly, when you have a player of his technique and ability, the door to the national team always stays open."