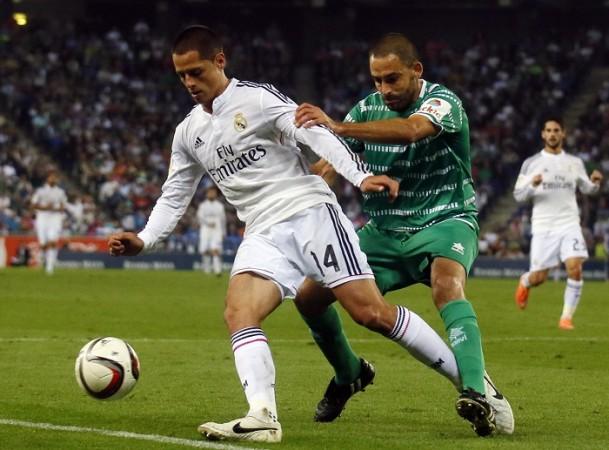 Javier Hernandez may no longer be wanted by Manchester United even after his season long loan spell at Real Madrid comes to an end.
The Mexican has not been in the best of forms for the Spanish giants, as he has only scored three goals for the club so far.
But Carlo Ancelotti has also not given him enough game time as well, which does not surprise many for it would be an improbable task to drop one of the trio – Cristiano Ronaldo, Gareth Bale, Karim Benzema -- to accommodate the Manchester United player.
And when Ancelotti gave him some game time, he could not prove his worth as well.
Had he impressed in his stint with Real Madrid, Hernandez might have been offered a permanent deal with the Galacticos.
After failing to make an impact with Madrid, The Daily Star reports that Carlo Ancelotti wants to send the player back to Old Trafford at the end of the season.
But, what makes matters worse is that the player might not be wanted by his own club as well. It is a huge embarrassment for the Mexican striker, who joined the Red Devils from a lesser known football club, Guadalajara, Mexico in 2010 for £6m.
Hernandez has scored 59 goals for Manchester United so far from as many as 154 matches.
The player nicknamed Chicharito might be sold by Manchester United during the summer, even if their big loan signing, Radamel Falcao is not offered a permanent deal, reports The Telegraph.
Though, the player started his debut season with 20 goals, he has not been able to hit such heights ever since, as a result, falling behind the pecking order.
Last season was said to be his worst in Manchester United, where he just managed 9 goals from 35 matches. This could well have been the final straw for the Manchester United hierarchy, as they loaned out the player to Real Madrid for the current season.
Even if the player is not wanted by the Red Devils, there could be a number of clubs, which would line up for the Mexican striker, who still has some good years in front of him.
He is a natural goal scorer and is a dangerous player inside the box and at 26 years of age, he is still not past his prime. He just needs a strong number of matches under his belt to start performing consistently.