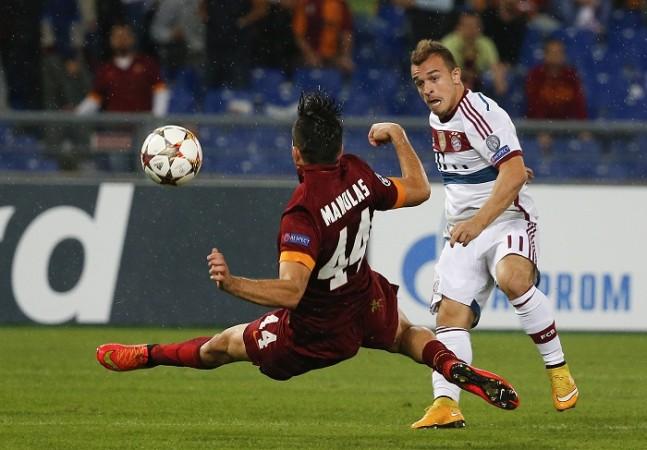 Manchester United have been dealt with a big blow in their pursuit of estranged Bayern Munich midfielder Xherdan Shaqiri, following reports of Wolfsburg currently leading the race to sign the Swiss player.
The 23-year-old midfielder, who completed a reported €11.6 million from FC Basel to Bayern Munich in the summer of 2012, is currently way down the pecking order, with manager Pep Guardiola preferring the likes of Arjen Robben, Frank Ribery, Thomas Muller and Mario Gotze over Shaqiri.
"I felt that (former Bayern coach) Jupp Heynckes had more belief in me," he said recently, according to the Daily Mail.
As a result, Shaqiri is desperate to make a move out of the Allianz Arena, with the likes of Liverpool and Manchester United believed to be leading to race to secure his signature.
However, the Daily Mail claims that Bundesliga side Wolfsburg are now in the pole position to sign Shaqiri.
The 23-year-old is believed to be more comfortable moving to Wolfsburg as he is already used to the style of football in the Bundesliga, and wouldn't have to leave the country where he is already settled.
This will certainly be a big blow for both Manchester United as Louis van Gaal was keen to get a new midfielder to bolster their squad.
Elsewhere, Manchester United's Angel di Maria has beaten his international teammates Lionel Messi and Sergio Aguero to win the 2014 Olimpia de Plata (Argentina's foreign-based Player of the Year award).
The 26-year-old, who moved from Real Madrid to United for a British record of £59.7 million this summer, was one of the key players for the Los Blancos last season as they went on to win the Copa del Rey and the La Decima (10th European crown).
Due to these impressive performances at Real Madrid last season, di Maria has been named as Argentina's best foreign-based player.
Meanwhile, this is the first time since 2006 that Messi failed to lift the highly coveted Olimpia de Plata award though he won the Golden Ball in the 2014 World Cup.