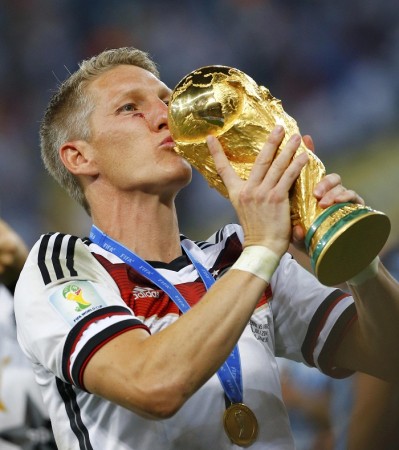 Louis Van Gaal was his typical confident self when facing reporters for the first time as Manchester United manager. The Dutchman, who said it is the English Premier League title or nothing, and with it immediately endearing himself to the United fans, also revealed he would take some time to assess the current United squad before deciding on who to bring to Old Trafford before the start of the new season.
United embarked on a preseason tour to the USA on Friday, and Van Gaal will scrutinise his players closely to see who will make the grade under his leadership.
However, there is little doubt that Manchester United will sign a few more players before the transfer window shuts at the end of next month, and with midfield, and a lack of quality in that position being the bane of United's existence over the past few seasons, coupled with the injury to Michael Carrick, a big name or two, despite the signing of Ander Herrera, can be expected in that position.
Van Gaal, according to the Daily Express, has zeroed in on three central midfielders who could make a difference to United, with those targets being World Cup winner Bastian Schweinsteiger, Juventus midfield supremo Arturo Vidal and Sporting Lisbon's up and coming star William Carvalho.
Vidal, of course, has been the most heavily linked with Manchester United during this transfer window, with the Chilean international himself admitting the Red Devils were keen on his signature. However, Juventus have come out and stated they have no plans of selling one of their best players, leaving United pondering on other options.
But then this Vidal to Manchester United transfer saga does not seem like ending anytime soon, with the midfielder admitting anything was still possible, even if he insisted he could yet very well stay in Turin for the rest of his career.
"It's difficult to speak of other teams when you are already at a top club," Vidal told reporters in Chile. "I have won the Serie A title three times and I respect my teammates. I don't feel I have completed a cycle at Juventus. Perhaps I will remain at Juventus all my life.
"I have heard about the interest shown by Real Madrid and Manchester United in me but there is someone else, my agent, who deals with this.
"Now the only thing my mind is on is that I have seven or eight days of holiday left and I want to go away from Chile in order to have a good rest. Once I arrive back in Italy I will speak to the coach and see what happens."
Juventus have seen their highly successful manager Antonio Conte step down with former AC Milan boss Massimiliano Allegri taking over at the helm. A change of manager could open the door for United to swoop in and sign Vidal, who is thought to be Van Gaal's number one choice.
If the Vidal move falls through, Van Gaal is reportedly open to signing Carvalho from Sporting Lisbon. However, with the Portuguese side refusing to budge from the massive £37 million release clause in the player's contract, United might look elsewhere.
The last of those three names in the list, might yet be the best. Schweinsteiger was immense, and then some, in the World Cup final for Germany, mopping up things when he needed to and making his team tick with his astute passing.
It is difficult to envisage Bayern Munich letting go of the 29-year-old, especially after seeing Toni Kroos sign for Real Madrid; but then, there have been suggestions that manager Pep Guardiola would be open to a sale for a fee of about £20 million.
One thing is certain – any team that has Schweinsteiger in their lineup can only be stronger, and if it happens to be Manchester United, it would be a tremendous coup for Van Gaal and executive vice chairman Ed Woodward.