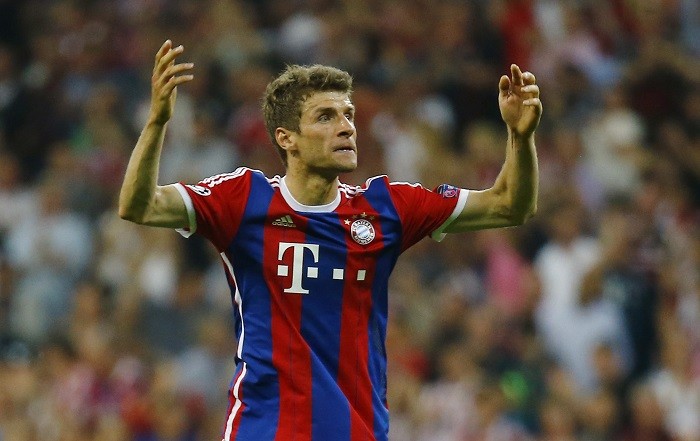 Manchester United are reportedly looking to make a move for Bayern Munich star Thomas Muller, with Louis van Gaal keen to find replacements for Robin van Persie and Radamel Falcao.
The Red Devils have done pretty well this season, especially compared to the dreadful campaign they endured under former boss David Moyes in 2013/14.
However, they could have done even better had they had some good strikers in their squad this season.
Falcao, who completed a sensational £6 million loan move from AS Monaco last summer, was supposed to be the striker that got them regular goals this season, but he has proved to be a better disappointment, managing only four Premier League goals so far.
Van Persie, who was the leading scorer in the Premier League for two consecutive seasons in 2011/12 and 2012 /13, performances, has also been in the decline as he has only managed 10 Premier League goals so far this season.
Wayne Rooney is the only striker for Manchester united who has been able to perform decently this season, scoring 14 goals in all competitions despite him being played out of position by van Gaal this season.
Due to their below par performances this season, van Persie and Falcao are both expected to leave Old Trafford at the end of the season.
And according to the Independent, van Gaal, who has reportedly made strengthening his frontline his number one priority this summer, feels that Bayern Munich's Muller will be perfect fit at Old Trafford.
The 25-year-old, who has been a consistent goal-scorer for Bayern Munich over the past couple of seasons, was handed his first team debut by van Gaal when the Dutchman was the manager of the Bavarians in the 2009-10 season.
As a result, Muller reportedly still thinks highly of van Gaal. And now with there being reports of discord between Muller and current Bayern manager Pep Guardiola, United may be in with a sign to secure the German's signature.
However, it is still not clear whether Bayern would be willing to sell Muller, although it is believed that Guardiola is reportedly looking to reshape the entire squad and bring in players who are more comfortable with his "tiki taka" style of play.
Still, if Bayern agree to let Muller go this summer, it is believed that he will be available for a transfer fee somewhere around £40 million.