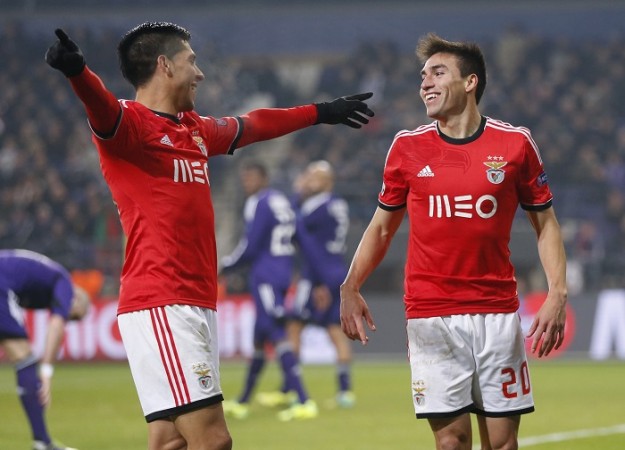 Manchester United are not showing any signs of quelling their spending, with the latest reports suggesting the club are preparing a staggering £50 million double swoop for Benfica duo Enzo Perez and Nicolas Gaitan.
Despite improving considerably over the season, Louis Van Gaal and Manchester United are still in the transfer market for quality players, and Perez and Gaitan have held their interest for a while.
Manchester United reportedly sent scouts to watch the duo in action against Braga on Thursday, according to A Bola, a game which Benfica lost 2-1.
Perez has recently been heavily linked with a move to Manchester United, with Van Gaal thought to be a big fan of the versatile midfielder, who performed quite well in Angel Di Maria's absence when the Manchester United midfielder got injured at the World Cup.
The presence of Di Maria, who has settled in quite well at Manchester United, is also thought to be a factor, with Gaitan also returning to the club's radar.
Gaitan has been in the "Manchester United Transfer News" bracket for quite a while now, even if a move has not quite materialised, or never really looked like progressing too far.
Manchester United, though, could pull the trigger on the two Argentina international in the January transfer window, with a £50 million bid, according to the Daily Express. Perez will cost less, his release clause of £23 million, while Gaitan could make Manchester United lighter by as much as £27 million.
The English Premier League side have already said they will only spend in the January transfer window if some of their big targets become available, and it remains to be seen if Perez and/or Gaitan are deemed as primary targets.
It certainly doesn't seem like Manchester United need an attacking player of Gaitan's mould, while Perez, who is more versatile and can slot in in multiple positions in midfield, could prove more useful.
However, with Manchester United finally finding their winning groove – they have won six consecutive Premier League matches – Van Gaal might not want to make too many changes in January, and rock the boat of some of the players who are finally beginning to show their worth.