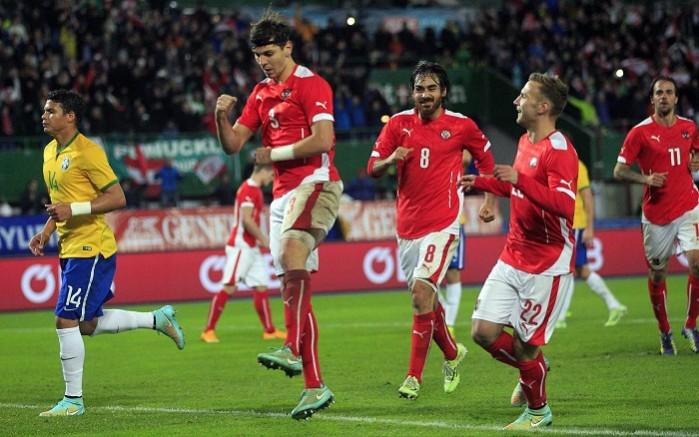 With Arsenal set to complete the signing of Gabriel Paulista from Villarreal, Manchester United also look on the cusp of inking a deal for a talented young defender of their own, with Aleksandar Dragovic reportedly set to sign on the dotted line soon from Dynamo Kyiv.
Dragovic was recently linked with a move to Manchester United, with Louis Van Gaal keen to strengthen his backline in the January transfer window.
With the Dutchman knowing that signing someone like Mats Hummels will be extremely difficult in January, he has been forced to look elsewhere with Dragovic and Marquinhos reportedly on his radar.
Dragovic will be less expensive than the PSG defender Marquinhos and with Manchester United expected to go all out for a central defender in the summer transfer window, it would make more sense to go for the Austrian international.
According to Sportnet, Dragovic looks all set to sign for Manchester United, with the figure reportedly set to be around the £15 million.
The reports suggest Manchester United will make the official bid to Dynamo Kiev, with the defender then set to sign a smashing, expensive new contract.
Dragovic, at 23, certainly fits in with Van Gaal's liking for young, talented players, players he can mould to his style. The former FC Basel defender certainly has the talent as well as experience to fit right in at Manchester United.
The young defender was heavily linked with a move to the English Premier League before he signed for Dynamo Kiev in 2013, with Arsenal also reportedly fans of the Austrian.
However, Arsene Wenger has decided to sign Villarreal's Paulista, a player Manchester United were also linked with, leaving Van Gaal to complete the signing of Dragovic uncontested.
It remains to be seen if Manchester United do bring in Dragovic, just how firm a move they will make for a centre-back (read Hummels) in the summer.
The likes of Phil Jones, Chris Smalling and Jonny Evans have failed to convince, even if all three have struggled with injuries, and Van Gaal might just feel the need for a complete overhaul of his centre-backs.
United are expected to go into the next transfer window armed with cash, cash and more cash and it does seem like it will be another summer of big-money signings for the English Premier League club.