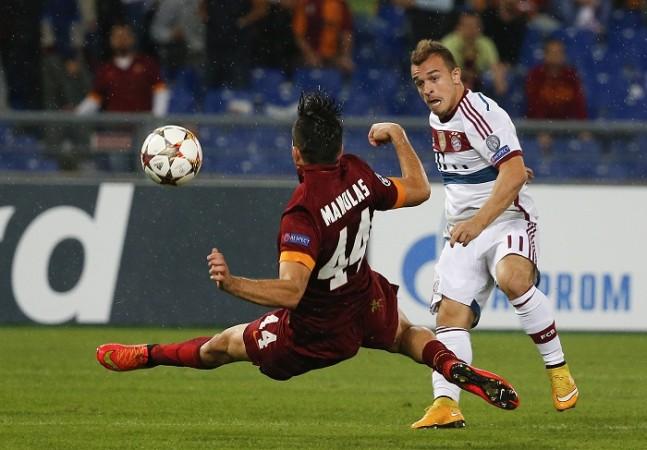 The names that Manchester United want to sign during the January transfer window just keep tumbling out, with Louis Van Gaal now looking to beat Liverpool to the signing of Bayern Munich playmaker Xherdan Shaqiri.
Switzerland international Shaqiri has been tipped to leave Bayern Munich in the January transfer window, after again finding it difficult to gain regular playing time.
Shaqiri, a couple of days back, admitted he will have to assess his situation with Bayern Munich, if his game time under Pep Guardiola does not change.
"Everybody knows I want to be playing more," he told Blick newspaper. "I've got to speak with Bayern before anybody, and we will sit down again this winter.
"I just get the impression I would never be a regular starter, not even if I score in every game."
The 23-year-old player also revealed he wanted to leave in the summer transfer window, only for Bayern to block a move.
"Of course I want to be playing more," he added. "I wanted a move in the summer, of course, but the club made their decision and I've just got to live with it.
"I just felt after the World Cup that it would be better for me to try something new. I thought about moving and I had lots of enquiries, but Bayern decided I had to stay -- and you can't do much about that as a player."
Liverpool might have been the team that Shaqiri might have moved to had Bayern sold the player in the summer transfer window, with Brendan Rodgers thought to be a big admirer of the Swiss.
The Reds, desperate for some freshness in their attack, which has not quite fired this season, reportedly remain interested in Shaqiri if the player becomes available during the transfer window in January.
However, Manchester United have now moved ahead of Liverpool in the race for the man knows as the "Alpine Messi" by agreeing to Bayern Munich's demands of an £18 million fee, according to the Daily Express.
Money, as clearly shown in the summer transfer window, is hardly an issue for Van Gaal or Manchester United, and £18 million should not pose a problem for the club, as they desperately look to secure a top four place, at the very least, this season.
Liverpool also have resources to match that fee, but Manchester United will probably be able to offer the higher wages. With Shaqiri cup-tied having played for Bayern Munich in the Champions League this season, the fact that Liverpool will be able to offer him UCL football, assuming they make the group stages, of course, will matter little.
However, it remains to be seen if Van Gaal deems spending £18 million necessary, with Manchester United clearly having more issues to sort out further down the pitch – in the defensive department and in the central midfield position.