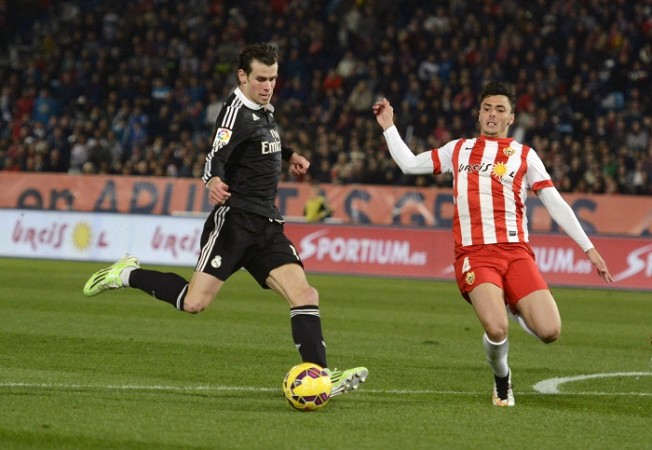 Manchester United manager Louis Van Gaal refused to rule out a world record move for Real Madrid superstar Gareth Bale, with reports swirling all over the place that the English Premier League side are ready to sign the Welsh winger.
Bale has been heavily linked with a move to Manchester United over the past few months, with reports suggesting Van Gaal was pondering over a bid of around £90 million next summer.
However, Madrid-based Spanish newspaper AS went one better by claiming Manchester United were ready to make a jaw-dropping £120 million bid for Bale, leading to suggestions a deal could be done, most probably at the end of the season.
Asked about a possible deal for Bale, Van Gaal, speaking at a media conference ahead of Manchester United's Boxing Day match against Newcastle, gave a typically Van Gaal answer, an answer which really did not leave much room for potent follow up questions.
"I cannot discuss that with you," said Van Gaal when asked if the reports suggesting a world record transfer for Bale were true. "I discuss that with my CEO and not with anyone of the media."
The executive vice chairman Ed Woodward has previously stated more than once that Manchester United have plenty of money to spend, and they would not be worried too much about going big in the summer transfer window again, much like they did at the beginning of this season.
However, even if Manchester United agree to pay that staggering fee of £120 million, it remains to be seen just how Bale and Real Madrid react.
Carlo Ancelotti has said more than once that Bale will not be sold – the manager at Real Madrid, though, very rarely has a big say in transfer matters – while Bale will see no reason to leave the club at the moment, having won the Champions League, Club World Cup, UEFA Super Cup and Copa Del Rey titles since his £86 million move from Tottenham in the summer of 2013.
The only chance for Manchester United is convincing Bale over a move back home to the Premier League, with Real Madrid likely to take that £120 million bid, if it is even remotely true, of course, and run with it.
Real, after all, have a ridiculous amount of attacking talent at their disposal, and even if Bale has shown his penchant for scoring big goals in big games, the club may look at that huge offer one they cannot possibly refuse.
All conjecture it will remain, until one of the three involved parties make their first move.