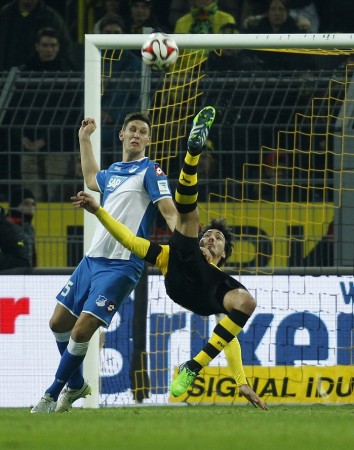 Manchester United manager Louis Van Gaal will wait patiently until next summer to land one of his priority targets – Mats Hummels.
Hummels is thought to be the number one choice for Manchester United in the defensive department, and the Borussia Dortmund centre-back was heavily linked with a move to Old Trafford last summer.
However, with Borussia Dortmund seriously struggling in the Bundesliga, the German club are set to hold firm about their key player leaving in the January transfer window, forcing Manchester United to wait until the end of the season before making an offer, according to the Daily Star.
Arsenal are also interested in the signature of the 26-year-old, who was pivotal in Germany's run to the World Cup title, but Manchester United are ready to beat out the competition from their English Premier League rivals by putting in a mega offer.
Van Gaal is desperate to land a quality central defender to help shore up his defence and just add a little bit of extra leadership.
While Manchester United have conceded considerably less in the last few matches, that has largely been down to the excellent David De Gea, who has made one outstanding save after another.
Bringing in someone like Hummels will just calm the defence down considerably and also help the likes of Phil Jones, Marcos Rojo and Chris Smalling to grow into their roles as well.
Reports a while back suggested Manchester United were ready to spend big in the summer yet again – similar to the £150-odd million they spent last summer -- and Hummels will certainly cost a pretty penny with the defender rated anywhere between £32 and £47 million.
Hummels might be tempted to leave Borussia Dortmund in the summer, if they fail to make the Champions League places, which as it stands, looks very unlikely.
Van Gaal has been linked with plenty of other defenders as well, including Diego Godin, Miranda, Gerard Pique and Raphael Varane, and with the former thought to be available for £20 million in January, it will be interesting to see if Manchester United make a move next month or wait until the summer to clinch, or at least try to, a deal for the likes of Hummels.
Bringing in a short-term solution like a Nemanja Vidic will probably make more difference, allowing Manchester United to think big in the summer transfer window.