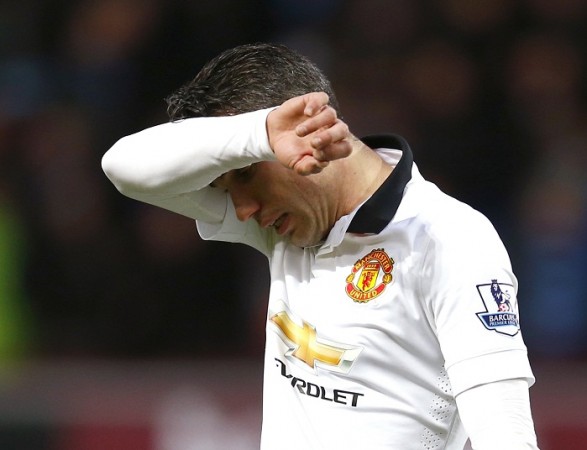 So much for comfort in having Louis Van Gaal as the Manchester United manager, or so will think Robin Van Persie, if the latest transfer rumours saying the English Premier League are ready to offload the striker turn out to be true.
Van Persie is having a second straight underwhelming season with Manchester United, with this one coming as a bit of a surprise as he was expected to be rejuvenated under Van Gaal, the manager who got the best out of him in a Netherlands shirt.
However, injuries and a lack of form have continued to dog the former Arsenal striker, leading to suggestions he could be on his way out of Old Trafford once the summer transfer window comes knocking.
Van Persie will be let go by Manchester United at the end of the season, according to the Daily Star, with the Daily Mirror saying Van Gaal will then look to bring in Edinson Cavani from Paris Saint-Germain as his replacement.
While Cavani will improve most sides in Europe, it remains to be seen if Manchester United, and particularly, Van Gaal, have indeed given up on Van Persie, who, on his day, can still be one of the most lethal strikers in world football.
Injuries, though, continue to be a problem and the key component for a striker to find his rhythm in front of goal is consistency in terms of games. Van Persie has been out for well over a month with an ankle ligament injury, adding to the frustration which has refused to leave him since the retirement of Sir Alex Ferguson.
It remains to be seen which club will be ready with an offer for Van Persie considering his injury record, but according to reports Van Gaal has already started making plans to bring in a replacement.
That replacement could come in the form of Cavani, who himself has struggled quite a bit since his move from Napoli to PSG. Cavani has not been able to hit those stratospheric Napoli heights in the French capital, with the Uruguayan striker repeatedly making his feelings known about being played out of position.
Cavani also reportedly does not have the greatest of relationships with current manager Laurent Blanc, and he knows as long as Zlatan Ibrahimovic is at the club, he will be second choice for the central striking position.
Ibrahimovic, however, is nearing the end of his career (do not tell him that, of course), and Cavani might considering biding his time, but if he does decide to leave PSG at the end of the season, a summer transfer to the Premier League looks the likeliest.
Arsenal, Chelsea and Liverpool have all been linked with a move for Cavani in the past, but Manchester United are ready to beat their Premier League rivals to the 28-year-old's signature.