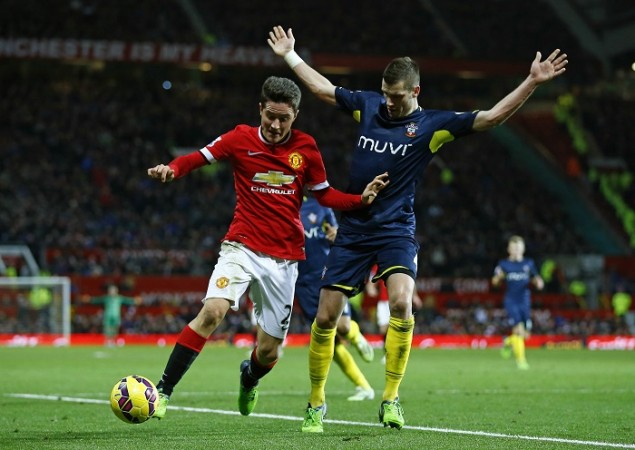 While Arsene Wenger continues to say Arsenal are not in "transfer mode" yet, the team to take advantage could be Manchester United, with Louis Van Gaal reportedly preparing a bid for Southampton midfielder Morgan Schneiderlin.
Schneiderlin has been heavily tipped to sign for Arsenal this summer, with some reports even claiming a deal is already in place to bring the France international to the Emirates.
The 25-year-old admitted last week he is looking to "stay in England" next season, while playing for a club in the Champions League.
Those comments only increased the likelihood of Arsenal signing Schneiderlin in the summer transfer window, but Manchester United are ready to throw a spanner in the works, according to the Mirror.
The report states Van Gaal is ready to join the "we want Schneiderlin" party, by making a bid for the midfielder, who is rated at around £25 million by Southampton.
That value should not be a problem for Manchester United, who are again expected to spend big in their bid to get back to the top of the Premier League.
It remains to be seen if a deal between Schneiderlin and Arsenal is already in place or not, and if not, if Wenger will try and compete with United, if the Red Devils actually do want to sign the highly-rated midfielder.
With Michael Carrick the only convincing player in the holding midfield position for United at the moment, Van Gaal is definitely looking to add to his ranks in that position, after Daley Blind and Ander Herrera failed to convince they could take over the Carrick mantle in the long-term.
Blind looked more convincing and secure in the left-back position, while Herrera is clearly a better player when given more of a license to look forward with a more defensive/controlling midfielder behind him.
While Schneiderlin is not a purely defensive-minded midfielder, he can definitely play the screening role to great effect, and could be the long-term answer to Carrick.
However, Manchester United have been linked with several other players in that position, including Ilkay Gundogan, Bastian Schweinsteiger and Kevin Strootman. If Van Gaal feels the latter has fully recovered from a long-term knee injury, the most likely scenario is Manchester United going for Strootman, while there have also been reports of a deal for Gundogan to Old Trafford already being done.