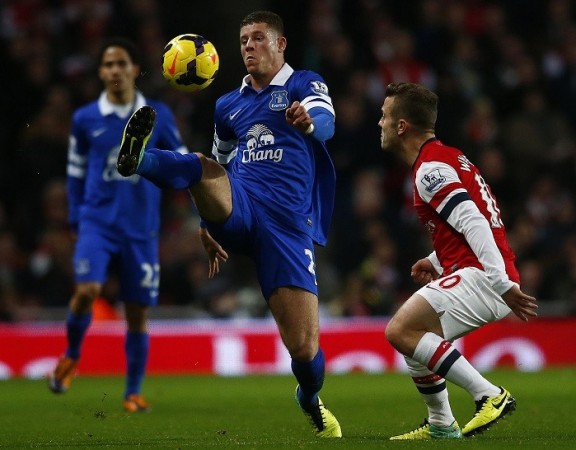 Louis Van Gaal is far from done with rebuilding his Manchester United squad, with the manager now considering making a huge double bid to bring in two extremely talented Everton players.
Manchester United made a major investment of over £150 million on players in the summer transfer window, and the club are looking to press ahead with more signings when the transfer window opens in January.
Van Gaal is looking to sign a strong midfielder in the January transfer window, with the likes of Arturo Vidal and Kevin Strootman on the Dutchman's radar along with Borussia Dortmund maestro Ilkay Gundogan.
However, the manager will also know the importance of signing established Premier League players in order to make it easier for the players to settle in, and therefore, Van Gaal has identified two Everton players, who were so impressive for the Merseyside club last season.
Manchester United, according to the Metro, are ready to make a £60 million double bid for Ross Barkley and Seamus Coleman. Van Gaal is desperate to strengthen his squad as much as possible in what will help him lock up a top four slot and Barkley and Coleman are seen as ideal candidates for that cause.
Barkley could be a replacement for Juan Mata, who has been heavily tipped to leave for Juventus in the January transfer window. However, even if Mata stays, Barkley will still bring in a lot of quality to the side, as the playmaker can play in varied positions.
Coleman, if brought in, will provide some much-needed competition for Rafael, and the Irishman will be a perfect wing-back option for Van Gaal, if he does revert to the 3-5-2 formation that he adopted during the early stages of the season.
However, getting either players from Everton will be far from easy as both Barkley and Coleman signed new long-term deals with the club in July and June respectively.
Robert Martinez clearly sees these two players as vital in his aim to get Everton into the Champions League, and it is extremely unlikely that the Toffees will be willing to let go of either player, especially during the January transfer window, even if Manchester United offer £60 million, or more.
Manchester City reportedly tried to sign Barkley during the summer transfer window, but were rebuffed by Everton, even if City are thought to be considering making another move at the end of this season.
Barkley, who is set to make a return soon from a long-term injury, is seen as one of the brightest talents in England, and it will be interesting to see if a bidding war arises for the player between the two Manchester clubs.