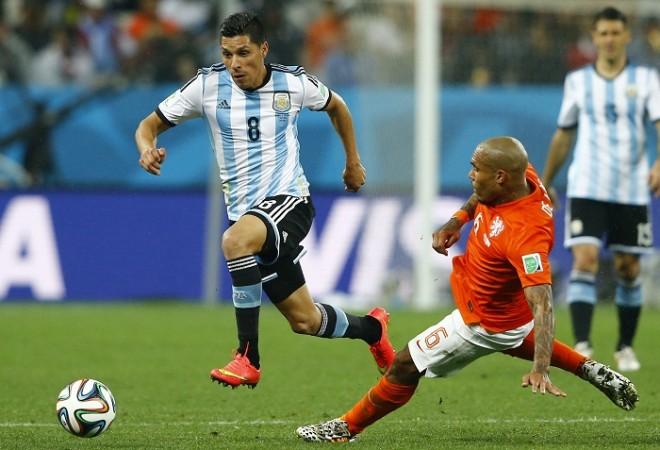 With one Argentine making quite an impression at Manchester United, Louis Van Gaal is ready to make a move for another one with the club reportedly showing their willingness to match the buyout clause of Enzo Perez to sign him from Benfica in the January transfer window.
Angel Di Maria is already a big hit at Manchester United, even if he might have been a bit anonymous in the last two games against Chelsea and Manchester City. Seeing how quickly Di Maria has adapted to life at Manchester United, Van Gaal is now considering bringing in fellow Argentina international Perez.
The Benfica midfielder only recently signed a new contract with the Portuguese blub, but has been constantly linked with a move to Manchester United in the past.
With Valencia reportedly showing a keen interest in the 28-year-old, Manchester United have been roused to make a move in the January transfer window, according to the Daily Express.
Perez reportedly has a £23.5 million release clause in his contract, which according to the report, Manchester United are willing to match.
Van Gaal sees Perez as a good addition to the squad, considering the midfielder can play in various positions. Perez did a pretty decent job for Argentina as Di Maria's replacement after the now Manchester United superstar suffered an injury during the World Cup in Brazil.
While £23.5 million should not be a problem, what will be questioned is Manchester United's need for a creative-minded midfielder, when problems clearly lie in defence.
Manchester United are still a quite short in the defensive area, if not in numbers, then definitely in quality, and Michael Carrick, who was forced to play in central defence in his first appearance of the season, due to injuries and a red card to Chris Smalling, would certainly be more productive in his more preferred central midfield role.
Carrick admitted his delight at making his long-awaited return from injury this season, even if the result – a 1-0 loss to Manchester City – might not have been the one he was hoping for.
"It was my first game back in six months, since the end of last season, so it was a bit of test for me to come on at centre-half," Carrick told Sky Sports. "I enjoyed it, it was nice to be back and I have certainly missed it, being out for so long. We will see who is fit and who we can patch up for next week."