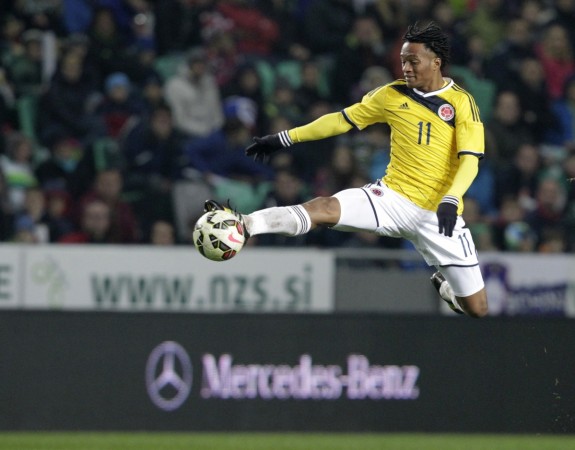 Manchester United are reportedly set to make a bid for Colombian midfielder Juan Cuadrado following reports of him being frustrated and wanting to leave Fiorentina in the January transfer window.
The Reds Devils along with Barcelona had been strongly linked with the 26-year-old in the summer transfer window, but a move failed to materialise as both sides refused to meet Fiorentina's £36 million asking price for the Colombian.
However, now the Red Devils are reportedly back in the hunt following news of Cuadrado being unhappy, and therefore trying to force a way out of Fiorentina in January, according to the Daily Star.
Cuadrado, who still has five years remaining in his current contract with Viola, is reportedly displeased with the limited first team opportunities he is getting at the club.
Earlier the likes of Chelsea and Manchester City were also being linked to the Colombian, but it is now believed that the two Premier League sides have cooled their interest.
This leaves Manchester United, who are looking for a new midfielder, in the clear to sign the Colombian, although they are likely to get some competition from Barcelona.
Meanwhile, Wayne Rooney is optimistic of Manchester United's title chances even though they are still eight points behind leaders Chelsea.
After a poor start to the campaign, United seemed to have finally found some form in the Premier League, where they are now in third place after registering wins in six consecutive games.
And Rooney is confident that Manchester United can upset the odds and win the Premier League title if they continue to play well and deliver results.
"I think we have to believe that we can win the title," Rooney told the club's official website. "We are eight points behind and coming into a busy period. If we can win our games and the others have one bad result then there's nothing in it.
"We have to keep winning our games, hopefully get back to the top and then you never know. We have shown a great resilience. Some of the games haven't gone the way we would have liked but we are winning them and that is a great quality to have."