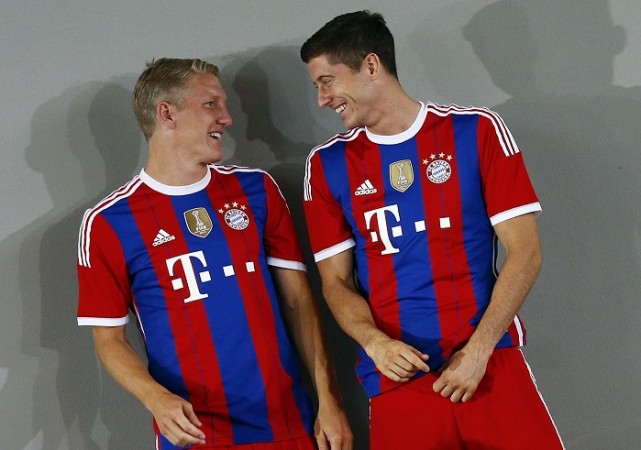 Bayern Munich duo Robert Lewandowski and Bastian Schweinsteiger are the latest players to be linked with a move to Manchester United as Louis van Gaal looks to further strengthen his squad this summer.
United, who recorded an impressive 4-2 victory over their rivals Manchester City on Sunday, are desperate to sign a new striker in the summer as their current attackers have not been able to do much in front of goal this season.
Radamel Falcao, who was expected to be an instant hit in the English Premier League after completing a sensational £6 million loan move from Monaco to Manchester United last summer, has been a disappointing season, managing only four goals from 23 appearances in all competitions this season.
Due to this reason, United are unlikely to take up the option to permanently sign him for £43.5 million after the end of the season.
The Red Devils' other strikers Wayne Rooney and Robin van Persie have managed to score 14 and 10 goals respectively this season, but van Gaal is reportedly looking for an attacker who can give him around 20 to 25 goals a season.
As a result, the Red Devils, who have already proved that money is not an issue, are being linked to a lot of top strikers.
And, according to the Daily Star, Bayern Munich's Lewandowski is their latest target, with there being reports of manager Pep Guardiola looking to offload the Pole this summer.
The 26-year-old has been a very consistent goalscorer, scoring 28, 36 and 30 goals in all competitions in the last three seasons for Borussia Dortmund.
His fine form caught the eye of Dortmund's arch rivals Bayern Munich and the striker ended up moving to the Allianz Arena on a free transfer last summer.
Lewandowski has also been impressive this season as he has already managed to score 20 goals in 39 appearances in all competitions for the Bavarians.
But, Bayern boss Pep Guardiola is reportedly willing to cash in on the Pole and look for an even better striker this summer.
The Daily star also claim that the former Barcelona boss is looking to offload Bastian Schweinsteiger as well this summer.
And Manchester United are reportedly happy to make a move for both Lewandowski and Schweinsteiger as van Gaal is on the lookout for both a striker and a central midfielder.
Although Bayern's asking price for Lewandowski has not been disclosed, it is believed that £10 million could be enough to land Schweinsteiger.