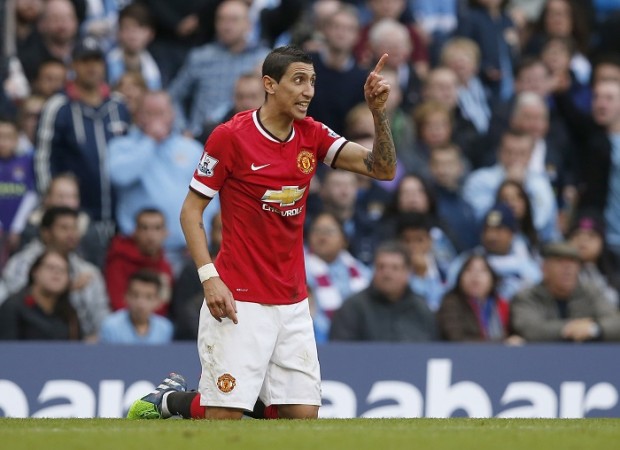 Manchester United boss Louis van Gaal has put Angel di Maria's future in doubt by admitting that the Argentine's debut season at Old Trafford has been a disappointment.
Di Maria was in excellent form for both club and country last season as he helped Real Madrid win the Champions League and take Argentine to the final of the 2014 World Cup.
This prompted Manchester United to secure the Argentine's signature for a British transfer record of £59.7 million last summer.
However, Di Maria despite starting his career at Old Trafford on a positive note, has been unable to live up to his huge price-tag, and has had a pretty poor season.
And now Van Gaal, who saw his side suffer a third successive Premier League defeat at the hands of West Bromwich Albion on Saturday, admits that Di Maria contribution this season has been minimal.
"He cannot say that he has had a marvellous season here," Van Gaal told Sky Sports.
"Normally Di Maria should have played, but the last weeks he doesn't play anymore and the team is winning. Now, we are losing, so the chance of him coming back is higher. It is always like that. It is never that it is not like that.
"The issue that he is not always in the line-up is for him a disappointment, but also for me a disappointment."
When asked whether the strain of the 2014 World Cup is the reason behind Di Maria's poor form this season, the former Bayern Munich boss replied: "I hope. You cannot always say that is the main factor. Of course, it plays a role, and I hope it is that, because then we can have a fantastic season next season."
"You have to adapt to our philosophy and that is also difficult for him, probably. Normally he shall have a fantastic season - I believe in that."
However, despite his poor form and there being reports of Di Maria wanting to leave Old Trafford, with Paris Saint-Germain believed to be still keen on landing him, Van Gaal expects the Argentine to stay at Old Trafford.
"I think Di Maria shall stay," added the Dutchman. "He is working hard. I am pleased with his attitude, so that is not a problem. The manager and the club is always dependable on the opinion of the player himself. The player decides. We shall see what he decides."
"The decision is not only to him because now we have a contract, so we shall speak always with every player - evaluation, as I always do. Then we speak with each other about the future, and that is with every player."