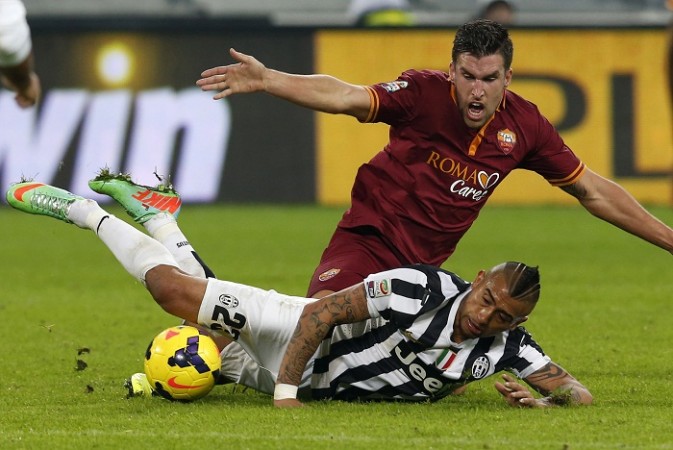 Manchester United manager Louis Van Gaal is ready to step up his chase for Kevin Strootman, with the Dutchman readying a big bid for the Roma midfielder in the January transfer window.
Strootman is expected to join up with Van Gaal sooner rather than later at Manchester United, with a close aide of the manager even suggesting the two had "shook" on a deal in the summer.
The only thing holding back a transfer for Strootman is thought to be the long-term knee injury that he suffered last season, but with the midfielder back playing again, a deal could be fast-tracked in January.
Van Gaal's confidante Hugo Borst, though, did say the transfer was likely to happen only in the summer, but according to Gazzetta dello Sport, Van Gaal is keen on capturing Strootman in the January transfer window and is preparing a bid of over €30 million (£23.5 million).
Roma have previously said Strootman is not for sale, and it is believed it will take a lot more than €30 million (£23.5 million) to tempt the Italian club to sanction a sale.
With the midfield looking reasonable at the moment – the form of Marouane Fellaini and Ander Herrera, along with the return from injury of Michael Carrick has been a huge plus – maybe Van Gaal might think better of making a move for Strootman in January, where players usually come at a premium.
It is always easier to complete transfers in the longer summer transfer window, and with the Strootman deal not expected to be straightforward, it does make more sense for Manchester United to wait until the end of the season.
However, with injuries constantly dogging Manchester United ever since Van Gaal took over, they might have to take stock next month, and see if Strootman will be made available by Roma, after all.
There is little doubt that Strootman will bring plenty of quality and a bit of bite to Manchester United's midfield, and the Dutchman could potentially form a brilliant partnership with Carrick and/or Fellaini.
It remains to be seen, though, if Manchester United will spend big in the January transfer window – the board have said they will not, unless a primary target becomes available – but signing Strootman does seem like a no-brainer as far as Van Gaal is concerned, with the only questions being for how much and when.