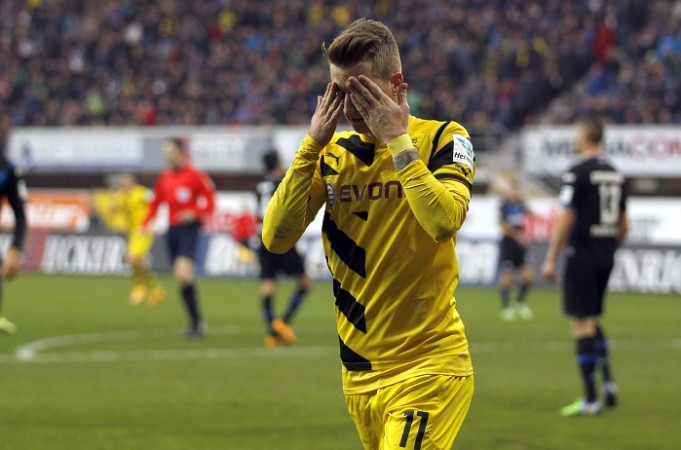 Manchester United are only just enjoying the benefits of having a player of Angel Di Maria's quality, but the English Premier League side might have to sell the Argentine midfielder in the summer transfer window, if they want to better their chances of acquiring Marco Reus from Borussia Dortmund.
Reus is widely expected to leave Borussia Dortmund next summer when a release clause of just £20 million comes into play.
Manchester United are just one of many teams interested in the Germany international's signature, with Arsenal , Chelsea , Manchester City, Liverpool , Real Madrid , Barcelona and Bayern Munich all considering making bids, either in January or next summer.
Added to that list of Reus' suitors now is Paris Saint-Germain, who are looking at Reus as a much cheaper alternative to Di Maria.
Recent reports from France suggested Di Maria was back on PSG's radar, with the Ligue 1 champions keen on making a summer move for the Manchester United midfielder.
Financial Fairplay Regulations restricted PSG from shelling out nearly £60 million to sign Di Maria from Real Madrid last summer, but the French club are reportedly confident they can work around FFP and create enough funds to have another crack at signing Di Maria.
Reports a few weeks ago suggested Di Maria could be sold by Manchester United to generate funds to sign one of Cristiano Ronaldo or Gareth Bale from Real Madrid.
However, now, Manchester United might have to seriously consider selling Di Maria to PSG in order to prevent the French side from making a summer move for Reus, according to the Daily Express.
While Manchester United are definitely interested in signing Reus, what is not guaranteed is that even if they do sell Di Maria to PSG and thus curb the Ligue 1 side's interest in Reus, there is no guarantee that the German forward will move to Old Trafford.
As mentioned earlier, a bunch of big clubs are interested in signing Reus, even if that list thinned a tad after Chelsea manager Jose Mourinho pulled out of the race by insisting he is not interested in signing the 25-year-old.
Also, Di Maria seems to have acclimatised himself pretty well at Manchester United, and there have been no signs of discontent from either the player or the club.
Of course, if Manchester United does indeed decide to go for one of Ronaldo or Bale if they find out either could be available, things might change, but that should not stop Van Gaal at having a proper crack at signing Reus next summer, with or without the sale of Di Maria.