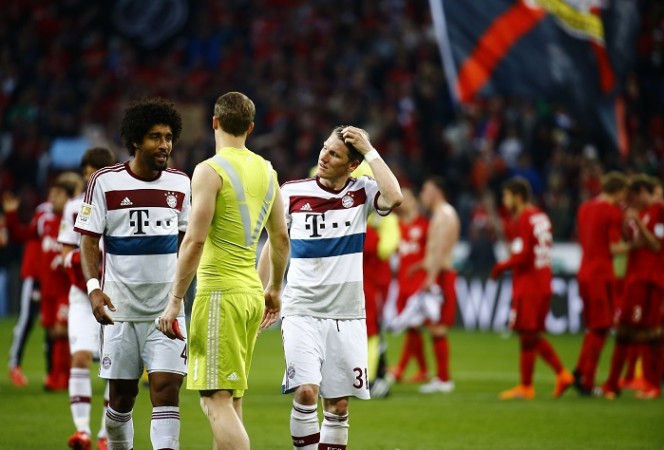 Manchester United are all set to complete moves for Bayern Munich duo Dante and Bastian Schweinsteiger, as Louis Van Gaal steps up his summer transfer business.
United are expected to have another busy summer of transfer rumours, transfer news and actual transfer activity, with Van Gaal keen on restoring "balance" to the side, which he felt was lacking this season.
One of the priorities for Van Gaal is buying an authoritative centre-back, with the likes of Mats Hummels and Nicolas Otamendi heavily linked with moves from Borussia Dortmund and Valencia respectively.
However, neither of them will come even remotely cheap, with Hummels also stating he wants to stay at Dortmund for at least another season. If Manchester United want to sign Otamendi, he could cost around £35 million, which is a huge amount for a defender who hasn't played in the English Premier League before and could struggle to acclimatise, much like Radamel Falcao and Angel Di Maria, albeit players in different positions.
So, going for someone like Dante, a short-term solution, before a better target crops up, might not be such a bad idea, and Van Gaal is ready to go with a solid offer for the Brazilian, according to the Metro.
The report also states, the Dutchman also wants to sign his former player Schweinsteiger, whose future has been up in the air. The Germany international is yet to sign a new contract with Bayern Munich, and with just a year remaining on his current deal, a sale cannot be entirely ruled out, especially for the right price.
While Schweinsteiger struggled with injuries this season, his class is without doubt, and the German could just be the midfield partner that Michael Carrick needs to make Manchester United tick just that bit more.
According Metro, who cite reports in Germany, Manchester United have already made official offers for both Dante and Schweinsteiger and a deal could very well be in the offing.
While Dante's signing could be met with some trepidation, considering the kind of form the Brazilian has been in over the past couple of seasons, the arrival of Schweinsteiger will certainly be met with plenty of optimism and excitement.
When fit, Schweinsteiger is one of the best midfielders in the world, and if he can find the kind of form which helped Germany to the World Cup title and Bayern Munich to a Champions League crown before that, Manchester United could very well have pulled off a coup.
Having said that, however, it is difficult to envisage Schweinsteiger leaving Bayern Munich, the only club he has played for in his senior career, even with only one year remaining in his current deal.