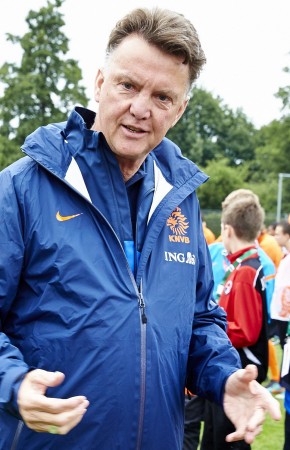 Holland coach Louis van Gaal, who is expected to be unveiled as the new Manchester United manager soon, has reportedly handed a list of summer transfer targets to the club's hierarchy, according to the Guardian.
Despite many being sceptical on whether van Gaal can handle both the Dutch national team as well United at the same time, the Red Devils are convinced he is the right man to succeed David Moyes.
Van Gaal is reportedly interested keen on Bayern Munich's Arjen Robben, Toni Kroos and Thomas Muller, Borussia Dortmund's Mats Hummels and Southampton's Luke Shaw.
Even though United do have some talented midfielders including Shinji Kagawa and Juan Mata, they need to bring in some new talent to their squad to improve their performances in the Premier League next season.
As for the make line, United badly need to get new players to replace the likes of Rio Ferdinand (retired) and Nemanja Vidic (joining Inter Milan). So the addition of Hummels and Shaw will certainly strengthen the Red Devils backline.
United have reportedly decided to postpone the official unveiling of van Gaal as their new manger till 18 or 19 May, when the Dutch national team will rest before going to Portugal to resume their preparations for the World Cup.
The 62-year-old tactician is adamant that he can juggle between two jobs once he is officially appointed as United's new boss.
"I have invested a lot of time in this, so you can imagine how very important [the World Cup] is for me and the players. I've been in football for 40 years. In three months I'm 63. So I can manage the situation. You keep focused because of the training sessions, because of the team meetings and the tactical meetings. And because of the passion of the players that play at the world championships. It is always the case that we want to be focused on the competition," explained the former Barcelona boss.
Meanwhile, van Gaal hopes that United striker Robin van Persie, who is still not 100 percent fit, will regain full fitness before the start of the World Cup on 12 June.
"What I think is that Robin is not fit yet but I hope he is fit when we start the tournament in Brazil. We have a phenomenon in [Dutch] skating, that skaters injured or ill for six months become the world champions. We hope that it will also be the same with Van Persie. Then I'll be the trainer-coach of the world champions," the manager stated.