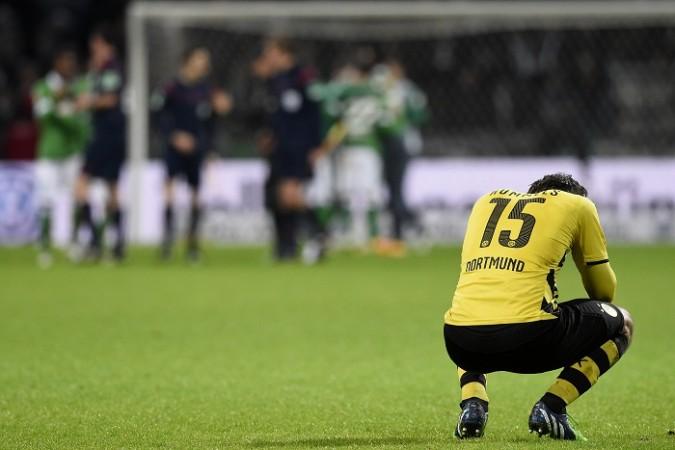 Manchester United look all set to land one of their prime targets – Mats Hummels – with the defender reportedly telling the English Premier League club that he prefers a move to Old Trafford.
Hummels has been heavily linked with a move to the Premier League, with Arsenal and Manchester United thought to be the frontrunners.
It looked unlikely that Hummels would move from Borussia Dortmund in the middle of the season, but with the Bundesliga club battling relegation this season, recent reports have suggested the Germany international is considering jumping ship in the January transfer window.
A massive bid will be necessary for Borussia Dortmund to even consider selling their star man, and Manchester United certainly have the beating on Arsenal in that scenario, with those deep pockets, which they showed amply during the summer, coming into play.
A bid anywhere between £32-47 million has been mooted, and if Manchester United want to tempt Borussia Dortmund to a sale, they will have to reach close to that £47 million figure.
However, the first part of convincing the player that a move to Manchester United is best suited seems to be done, with Hummels reportedly admitting his preference over a move to Old Trafford, according to the Daily Mail.
That would be a big blow to Arsenal, who are desperate for a centre-back as well, but a huge fillip for Louis Van Gaal, who sees Hummels as the perfect player to sort out his defence and just add that extra bit of quality and leadership at the back.
It remains to be seen just when the transfer, if at all, will take place as Hummels has previously publicly stated that he has no plans to leave Borussia Dortmund anytime soon, even if the club are facing the threat of relegation.
However, with whispers from Germany constantly coming out that Hummels is open to a move away, there might just be something in those rumours after all, and it will be up to Manchester United to ensure they push through the transfer, be that in January or at the end of the season.
Van Gaal said his New Year's resolution for 2015 is to push Chelsea and Manchester City from their perch, and bringing in Hummels will certainly aid that cause as Manchester United look to get back to the top of the English Premier League.