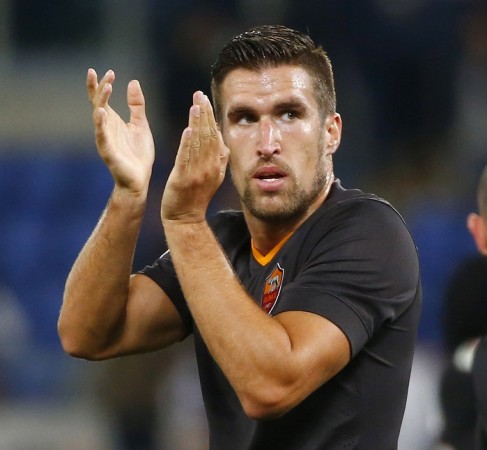 Manchester United will complete the signing of Roma midfielder Kevin Strootman in the summer transfer window after the end of the season, according to a close confidante of Louis Van Gaal.
Strootman was thought to be Van Gaal's number one priority signing, considering the fact that the Manchester United manager rates the midfielder so highly.
It is believed, only a long-term injury prevented Strootman from making a move from Roma to Old Trafford last summer, but with the midfielder back in action now, reports suggested that a transfer could be in the offing in January.
Van Gal himself had said he would monitor Strootman's return from closely before making a decision, and according to Dutch journalist Hugo Borst, who wrote a biography on Van Gaal, a verbal agreement has already been made between the player and manager, but the deal will only happen next summer.
"In the spring of 2014 there was a match between PSV and Feyenoord -- Robin van Persie was in the stands, along with Louis van Gaal, and on the other side was Kevin Strootman," he told Hawksbee and Delaney, according to Talksport.
"The pair chatted, this was when people knew Van Gaal was going to Manchester United.
"Van Gaal asked Strootman whether he was interested in playing for Manchester United, and he said he was very willing.
"They have shaken hands on the deal.
"He is an outstanding player. It won't be in January but it will be next summer."
While Manchester United need to find a way to finish in the top four this season to ensure their place in the Champions League, Strootman's possible arrival next campaign will be a huge fillip for Van Gaal and the club.
Strootman could just be the strong, authoritative central midfielder that Manchester United have lacked for so long, and the player himself admitted his admiration for Van Gaal.
"With him looking on, whether it's during a training session or in a packed stadium, it's not a matter of me wanting the ball," Strootman said in that biography according to the Manchester Evening News.
"No, I've got to have it. It is mine. It's like an obligation I have to Van Gaal."
Executive vice-chairman Ed Woodward recently admitted Manchester United are likely to spend big again in the summer transfer window, and would dip into the January market for a marquee player only if he became available.
With Strootman returning to action, it remains to be seen if Van Gaal will speed up the process and begin talks with Roma over a transfer in January. It will not be easy either way, however, with Roma admitting several times that they would not let Strootman leave on the cheap.